Archive for November, 2008
November 26th, 2008
Yes, it took a majorly long time for my January B's Log to arrive, but it's finally here!
News:
Harukanaru Toki no Naka de Ukihashi coming to PS2 – of course with extras like Akram and Tomomori!!
A new game from the creators of Asaki, Yumemishi -I haven't heard great things about that game, but ooh, the pics are pretty!
Hiiro no Kakera – a musical!! O.o Showing in Tokyo and Osaka in January
VitaminZ – the guys from VitaminX appear!!!
And that's about it for breaking news, I will start loading up pics for articles – probably the first couple will be about the new game, and the guys from Kanuchi Black. Let me know if there's anything you want to hear about!
November 26th, 2008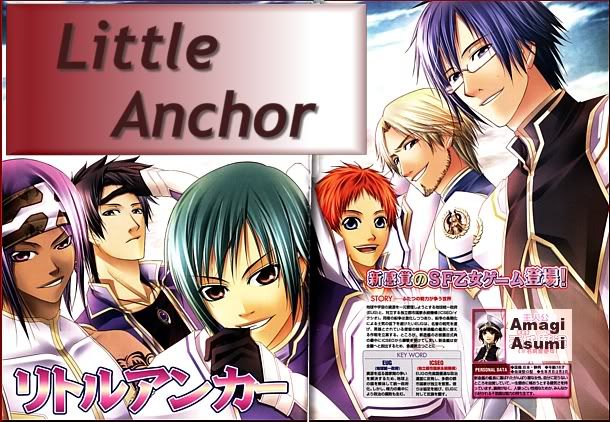 Do you see that? Do you see the "SF" in the pic? Yes, this is the first EVER sci-fi otome game, being released next spring by D3 for the Playstation 2.
First things first – the characters!
From left to right:
Viore Lafare CV: Taniyama Kishou Country: Yemen
Riu Rei Shun CV: Sugita Tomokazu Country: China
Joshua Reinberger CV: Okamoto Nobuhiko Country: Czech
Lucio Suarez CV: Ohkawa Genki Country: Portugal
Alva Loren CV: Fujiwara Keiji Country: Italy
Shiranami Yukino CV: Midorikawa Hikaru Country: Japan
Well, I guess the Americas are too boring to have astronauts on this ship *sniff*, but that's ok.
November 19th, 2008
I can't believe I forgot about this game! Love Root Zero ~kiss kiss labyrinth~ is set for Spring 2009, for the Playstation 2 from Dimple. It's originally a cell phone game (don't you wish we could get those here??) and when I finally read the story, I thought it was really interesting.


The main character Yaeko is in high school, and there's a school legend that if you confess to someone when the shadows of two trees (at least I think that's what it refers to) make a cross, it will be successful. One day her classmate Kazuya (top right in the pic) confesses to her, but she says no, and an earthquake occurs, sending them to another world in the middle of a labyrinth.
It doesn't say anything about how she actually feels for Kazuya (I guess you can choose that in the game), but she actually has a boyfriend already, her childhood friend Kouichi (bottom left) whom she's been dating ever since he got hurt protecting her a year ago.
I really like the idea of a love triangle existing from the very beginning, but of course there's more than two candidates for Yaeko's heart. There are two fairies that appear before Kazuya and Yaeko, Chocolat (grey haired) and Candy (blonde) in the labyrinth, and two other people from school that show up in the labyrinth. Terumasa is the biology teacher at school, and Sui is his nephew and a freshman.
The gameplay supposedly consists of two parts, going around a map and fighting monsters, and an intriguing system of the guys fighting with a 'root zero' that will make them show the dark side of their personalities instead of the light, which they usually show. It sounds like you can perhaps get endings with both the light and dark side of each guy.
November 13th, 2008
Hey, I said I would post a couple pics from the new R18 game from Strawberry Maiden, Pretty Witch Academy, and here they are: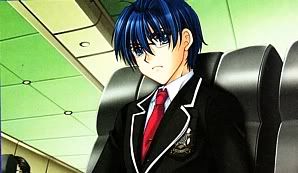 Erm, I haven't read anything about the story because it doesn't interest me at all , so I can't do a blurb on it XD
November 11th, 2008
Sorry this has been SO long in coming, it's year-end at my job and I have been really busy – plus (to be completely honest) I have been playing WoW whenever I have downtime to get ready for its new expansion.
So I've had these pics waiting for a long time, but better late than never, right??
OK, first up, the rest of the students Kita has to worry about – the Perfect Twins, or P2.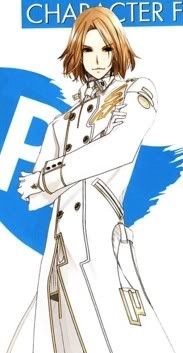 CV: Irino Miyu – this seiyuu is new to me, but it looks like he did Sora's voice in Kingdom Hearts II as well as Daisuke's voice in DN Angel!
Uh-huh, this guy is much better than the old student president! His name is Houjou Kei, he's good at every subject and wants to be a detective like his father.
and his twin brother Houjou Nachi.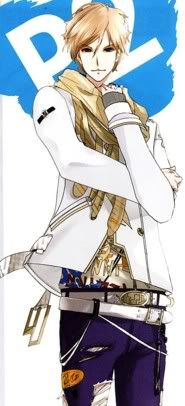 CV: Nojima Kenji
More approachable than his twin brother, he's the student vice-president. Supposedly though they're 'perfect', these twins are totally inept in their own way – guess we'll have to wait to find out how!
Now for the staff! Only three teachers (so far?), but they've changed the school principal and vice-principal and thy are much better than that old bald guy!
The Big Cheese and his Second-in-Command (does anyone else think the principal looks like a crazy vampire version of Tsubasa?):


Principal (on the left, bien sûr): Saeki Kagetora, CV: Koyama Rikiya (ZOMG, this is Basch from FFXII!! <3!)
Vice-Principal: Kamijou Motochika, CV: Kusao Takeshi
Sensei-tachi:
Young and fashionable!


Kagami Ranmaru (CV: Suwabe Junichi)
Cool and mature!


Kirioka Rintarou (CV: Hanawa Eiji)
Charming and debonair!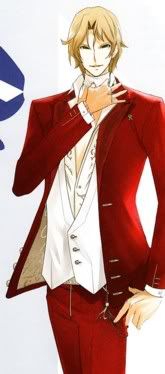 Tendou Ruriya (CV: Kamiya Hiroshi)
And I can't believe I forgot the seiyuu for the A4! Here they are:
Tenjuurou: KENN
Chisato: Maeno Tomoaki
Arata: Morikubou Shoutarou
Yakumo: Yonaga Tsubasa
Wow, lots of new seiyuu! Well, I've hardly ever disliked a seiyuu in an otome game, so I have high hopes for these guys. And Trick Shot Princess, I agree with you, I'm totally going for Chisato first! Unless I can go for Kirioka-sensei, love the shibui type
That's pretty much all the pics I have for VitaminZ, but I'll keep posting any info I find – next spring seems a very long way away!
November 3rd, 2008
OK, I'm still here!
I'm very excited about the Vitamin Z game scheduled for next spring, and the December B's Log had a big spread on the characters.
It's a whole new bunch of students and teachers, and they seem pretty original.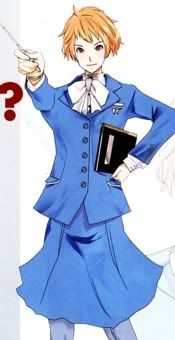 Let's start with the main character, Kita Manami. She just got her teaching license when she got a job offer from Seitei. Then the 'Aho 4′ or A4 start at Seitei and are put into her new class, Class Z. As before, she has to try and guide them towards successfully finishing high school and getting into college.
The Idiot 4: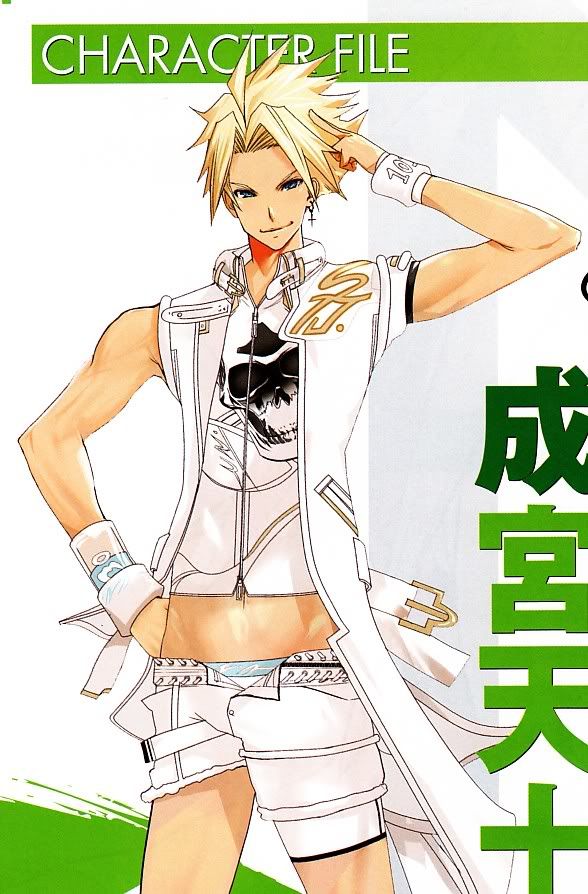 Narumiya Tenjuurou – the charismatic leader of the A4, Tenjuurou is uncomplicated – he loves surfing and watching pro wrestling, and dislikes indecisive people. Though he's also the son of a big company like Tsubasa, he has a good relationship with his family and is very loyal to people once he sees them as friends.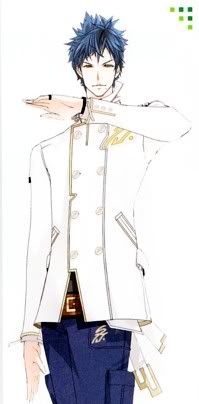 Fuwa Chisato – the most apathetic member of the A4, his family has been servants of the Narumiya family for a long time, and Chisato kind of takes care of Tenjuurou. He's an expert in martial arts and likes cooking.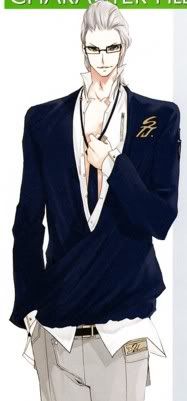 Mine Arata – Arata's major goal in life is to be popular with women, and he spares no effort to achieve it. He plays tennis (to look cool), always takes care of his looks, and prefers French cuisine to gyoza (they smell too strong).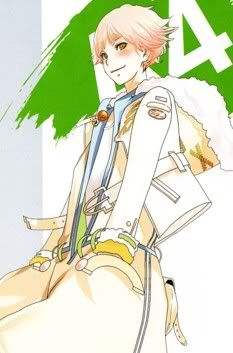 Tachibana Yakumo – a cute and slightly selfish idol, apparently there's some secret about his family. He's usually cheerful, but people say you should try not to make him really angry.
Next up, the Perfect Twins and the teachers!