November 11th, 2008
Sorry this has been SO long in coming, it's year-end at my job and I have been really busy – plus (to be completely honest) I have been playing WoW whenever I have downtime to get ready for its new expansion.
So I've had these pics waiting for a long time, but better late than never, right??
OK, first up, the rest of the students Kita has to worry about – the Perfect Twins, or P2.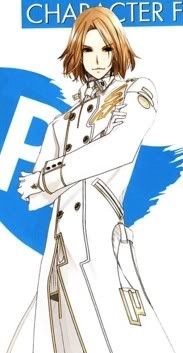 CV: Irino Miyu – this seiyuu is new to me, but it looks like he did Sora's voice in Kingdom Hearts II as well as Daisuke's voice in DN Angel!
Uh-huh, this guy is much better than the old student president! His name is Houjou Kei, he's good at every subject and wants to be a detective like his father.
and his twin brother Houjou Nachi.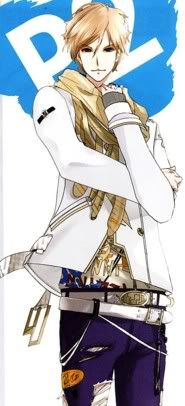 CV: Nojima Kenji
More approachable than his twin brother, he's the student vice-president. Supposedly though they're 'perfect', these twins are totally inept in their own way – guess we'll have to wait to find out how!
Now for the staff! Only three teachers (so far?), but they've changed the school principal and vice-principal and thy are much better than that old bald guy!
The Big Cheese and his Second-in-Command (does anyone else think the principal looks like a crazy vampire version of Tsubasa?):


Principal (on the left, bien sûr): Saeki Kagetora, CV: Koyama Rikiya (ZOMG, this is Basch from FFXII!! <3!)
Vice-Principal: Kamijou Motochika, CV: Kusao Takeshi
Sensei-tachi:
Young and fashionable!


Kagami Ranmaru (CV: Suwabe Junichi)
Cool and mature!


Kirioka Rintarou (CV: Hanawa Eiji)
Charming and debonair!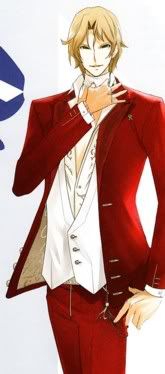 Tendou Ruriya (CV: Kamiya Hiroshi)
And I can't believe I forgot the seiyuu for the A4! Here they are:
Tenjuurou: KENN
Chisato: Maeno Tomoaki
Arata: Morikubou Shoutarou
Yakumo: Yonaga Tsubasa
Wow, lots of new seiyuu! Well, I've hardly ever disliked a seiyuu in an otome game, so I have high hopes for these guys. And Trick Shot Princess, I agree with you, I'm totally going for Chisato first! Unless I can go for Kirioka-sensei, love the shibui type
That's pretty much all the pics I have for VitaminZ, but I'll keep posting any info I find – next spring seems a very long way away!
Leave a Reply