Archive for September, 2011
September 27th, 2011
Sanctuary has just announced a new game for the PSP, Koisentai Love & Peace, for next spring. It's based on a series of drama CDs from b-green (Broccoli) which are based on a cell phone game. Looks like fun!
Characters:
Heart Rangers (good guys)
Heart Red Akagi Fuuta (CV: Hoshi Souichirou)
Heart Blue Aoyama Reiji (CV: Toriumi Kousuke)
Heart Yellow Sarutobi Kouhei (CV: Miyata Kouki)
Heart Black Kuromine Tsuguru (CV: Nakai Kazuya)
Others:
Dark (CV: Madono Mitsuaki)
J'taime (CV: Maeno Tomoaki)
Wolf (CV: Shimowada Hiroki)
Kamiya Momoko (Butterfly Mask (CV: Kishio Daisuke))
Zeeta (CV: Ono Tomoki)
Zero (CV: Eguchi Takuya)
Chidori Hiroshi (CV: Fujiwara Keiji
Mikage James Masato (CV: Seki Tomokazu)
Kuraku Kenjin (Superboy) (CV: Ootsuka Houchuu (does anyone recognize him? I first saw him as Abuki, Kamui's right hand man in Gintama, and for some reason I just love his voice! He also has a short role in One Piece, but that's all I know him from)
September 25th, 2011

That's the name of the newest game from 5pb and Rejet, announced for release December 1 on the PSP AND PS3!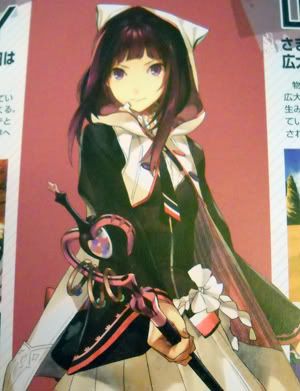 The heroine Lilith is training to be a priest in the small northern town of Dordorn. Raised in the temple, she's a little naive, but bright, honest and hard-working. She uses a staff called the i-scepter.
One day she encounters Nayuta and Kirite, and she starts out on a new path. Not too much is clear about the plot except that it's about saving the world.


Krite Asturias (CV: Sakurai Takahiro) A cool samurai who uses a longsword that's the same height as him, and he's from Savilla. He doesn't show emotion much and doesn't like socializing much, but meeting Lilith causes him to change.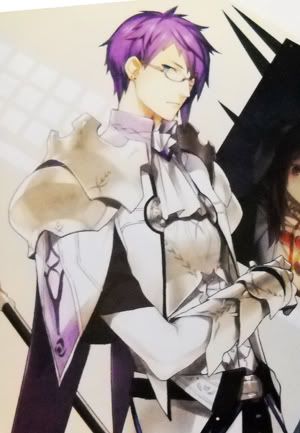 Nayuta Roen (CV: Fujiwara Yuuki)
Born and raised in Ingrid, he's the straightforward Captain of the White Lily Knights, protecting the temples and law of the city. In addition to being an expert at the spear, he's also good at using healing and protective magic. Seeing Lilith, who's still learning, he tends to be a little harsh with her.

Soo Majiku (CV: Yoshino Hiroyuki)
A skilled fighter from Dainus who loves freedom. He hates feeling restricted and isn't very good at social niceties, so he's often scolded by Nayuta.

Nate Suruya (CV: Masuda Toshiki)
A werewolf thief who uses a bow from the woods near Midvan, he looks young but is actually the oldest of the whole group.

Nico Velvetnein (CV: Kishio Daisuke)
A magician born in Melrond who calls himself a sage. He's willing to do almost anything for knowledge, and joins Lilith's party because he's interested in 'saving the world'.

Camus Tetra Porte (CV: Suzuki Yuuto)
A small fairy who's been Lilith's best friend since she was small. Usually he's bright and cheerful, but he sometimes shows a perspective that has many years of experience behind it. He's very protective of Lilith. He can use nature spirits.
September 14th, 2011
I'm working on a post for Beyond the Future, but I'm being lazy and thought I'd post about my upcoming trip to Japan first!
Next month I'm going for over 2 weeks, and besides it being pretty lengthy, I haven't been there for at least firve years, so I'm extremely excited!
I will be doing a lot of sightseeing, but also have a whole week in Tokyo where I plan to shop shop shop for otome stuff. I have been poring over this shopping guide for months, and am actually staying for a few days very near to Otome Road.
I'm making up a shopping list, and have held back from buying many games all this year (though I couldn't resist getting Musketeer!), and I am ready to go on a bit of a binge once I get there! In addition to whatever new games have come out (pretty much anything I can find that I don't have yet, like Waga Ichizoku) I'm also planning for several fandisk purchases that I've been resisting, like Lucian Bee's, Xechs, Wand of Fortune, Hiiro no Kakera 4, Clover no Kuni no Alice, and a huge number of PC games which we just can't order here (without an enormous expense and hassle – I think I'd probably have to pay about 3 times the retail price to get one here), and there are lots of doujin (indie) games as well. I also can't wait to see what merchandise I can find – I know there's tons for Hakuouki, but I'm looking to seeing what else is available. And let's not forget drama CDs! I never buy them here, because they are so expensive, but I think I might get some there…last but not least, there are manga and doujinshi. I'm not planning on getting too much manga, as I don't follow many series anymore. Here's my shortlist:
Jellyfish Princess/Kuragehime Vols. 8+ whatever is out
Violinist of Hameln Shell-kun (anyone else read/watch this? it's so schizophrenic but I love it) – the new story about Hameln's kid Grate, which my friend loaned me the first two volumes of and it's awesome, I see there's up to volume 7 out now!
Ai da no Koi da no 2 and 3 – fun and a little different heroine than usual
Otogimoyou Ayanishiki Futatabi 1 and 2 – mostly because I love Hikawa Kyouko, though I couldn't get into the original series I think it's because I was lazy in paying attention
OMG, what is this?? Sekai de Ichiban Daikirai Special and it has my favourite couple on the cover! Geez, this list is getting longer the more time I browse at Amazon Japan…
Probably anything I don't have by Sakamoto Miku, because I find her stuff cute and not too angsty
I'm counting on checking out the new phonebooks (mwahaha, my travelling companion is probably going to be shocked at how many I buy the first chance I get, which may be before we get out of Narita airport) and finding a couple series to pick up, but nothing over 10 volumes – I just don't have the patience anymore!
As for doujinshi, well I don't keep up at all with circles or anything, so I'll probably just spend several hours at Mandarake and get whatever catches my eye – especially anything based on otome games. I know there's a bunch for Harutoki, and I'm positive there are lots for Hakuouki, but other than that I don't know how easy/difficult it will be finding stuff. I've seen covers of VitaminX doujinshi and but who knows how rare it is. If anyone has recommendations for doujinshi please let me know!
So, there you go, my trip to Japan in terms of shopping. Three weeks, four days, and counting!