Archive for October, 2011
October 27th, 2011
Well, I got to Otome Road too early today(ok, a few days ago, this is late!) and then it started pouring, so I didn't do much shopping until the afternoon. I found the Book off (conveniently between Ikeubukuro station and Otome Road) and bought a couple games, then headed over.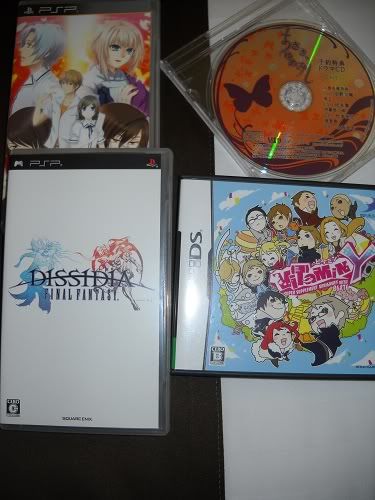 Since I hadn't tried K Books yet, I went there, and it was awesome! Lots of stuff, they have baskets of furoku and thingies that you can't usually get separately. And a great selection of drama CDs, I really have to make notes of what I want now.


Yay, a Nachi facecloth, heh. And finally got WagaHana

Doesn't look like too much but several solid purchases in there!
October 22nd, 2011
I wanted to do some reconaissance for when we move to Ikebukuro tomorrow, so we went there and I did my first bit of Otome Road shopping.
First I had to find it, which was harder than I thought. Strangely enough, there are no big signs saying "OTOME ROAD THIS WAY!!!" and even though I had the shopping guide, I picked one landmark that was wrong and went kinda far before finding the right way.
However, I soon realized my mistake (the turning point was when I was following people because I figured they would be going towards the station, and it turned out they were going towards a college of some kind) and started paying attention to addresses (you know Japan does addresses by blocks, not streets, right?) and eventually found my way to the entrance. Which, by the way, also does not scream out, "Here is Otome Road! You have found the Mecca of otome games!!", but at least the animate has its sign fairly high up and large so it's hard to miss.
Since I have to move all my stuff tomorrow, I wasn't fussed about buying a lot, more scoping out what's available, so I just went to the animate and the Mandarake. The animate was good but had almost no extra thingies left for games, which I guess makes sense if it's the popular place to order otome games from. I did get Crimson Empire finally, and it came with both the preorder special and the animate special, so 2 cds and a washcloth, yay! And I bought a couple clearfiles, because they're cheap and I haven't seen much Desert Kingdom or Renai Banchou merchandise. Of course there was tons of merch for Hakuouki and Starry Sky, but that's always the case.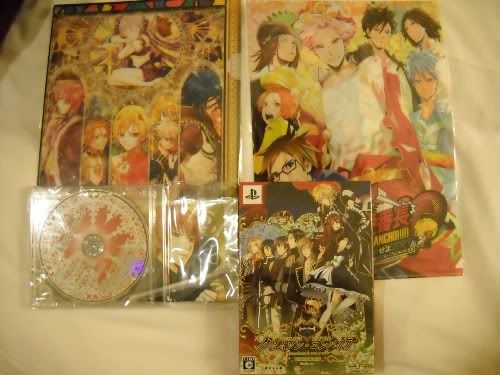 The mandarake was great, and I again bought a bunch of CDs, and some doujinshi, as well as a few games (yay Bloody Call! I hadn't seen it yet) they also had several of those huge boxes for the special Neoromance games (like the Treasure Box etc.), but without prices, so I was almost afraid to ask about them.

October 21st, 2011
I decided to get both animates finished in one day. Turned out that was a good choice, since I didn't get much at them anyways.


At one I just got the new B's Log, which came with a Tokimemo 3 clearfile, and old Cool-B. and at the other, I didn't get anything! They didn't have any great extras for games, and not much choice for other stuff in otome games, so I headed over to the nearby Traders and bought a few games there.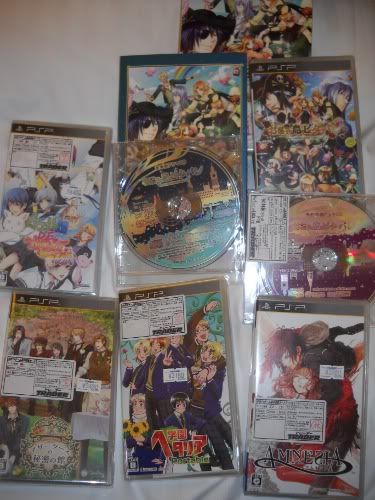 Both Peter Pan and Mother Goose from Quinrose, as well as Amnesia, which was one of the games I couldn't get at Book Off, as well as Kaerubatake and Hetalia. Hetalia I bought mostly on a whim.
October 20th, 2011
So today I went to two places in Shibuya, Mandarake and Book Off, but I couldn't get to the Animate, because Book Off had a problem with my credit card, and by the time I found a way to call Mastercard and check (there was no problem), and go back to Book Off to find out that apparently it was just their machines and that I couldn't buy any more there, it was too late and I had to get back to the hotel. (cue chorus of booing!)
But I still had a good day out, several games and TONS of CDs, the extras/preorder thingies that Mandarake sells separately. They had SO MANY, in the end I just limited myself to buying the ones under Y1000, and went crazy.


Yeah, tons of CDs, as well as the PC version of Sengoku Ren Senki, though I already bought the PS2 version, it was pretty cheap and came with extras…and some Kanuchi comics. If you can tell, there are some really old games for those CDs – Shirogane wa Houkago no Shirabe, and a really really old R18 game Toiro Komachi.
Tomorrow it's animate for sure!
October 19th, 2011
I found Nakano because Mandarake has a main location there, but afterwards I realized it has a whole list of places in my shopping guide too! It's a few stops west of the central Tokyo line, and it is a lot of fun. There's an arcade that you go through, and once you pass through it and enter the next arcade (Sun Plaza), there are many many fun shops – I could have probably spent a whole day there. Besides the awesome Mandarake shops (they have about 5 separate little shops there with different focuses (focii??)) there are other ones with just about any cult favourite you can think of – models, cult movie posters from decades ago, cosplay, miniatures – it's a great place to bring people (and then leave them while you go and browse in Mandarake, heh).
So, first I reached the manga section, and got these: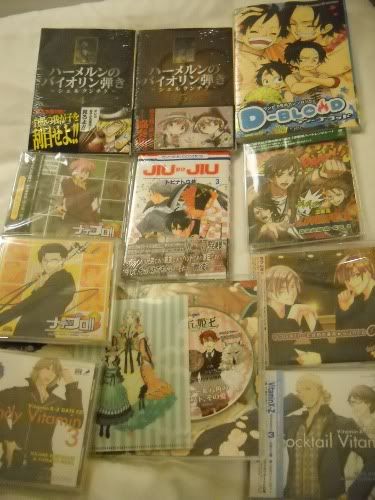 Nade Pro Vol 1 and 2, they were both pretty cheap. And the VitX-Z CDs with my favourite characters (Chisato and Konokage of course!). And Koisentai Vol 1! So I can get excited for when they release that game!
I couldn't figure out why there were no games, so I asked, and a clerk kindly gave me a map of all the different Mandarake shops in the plaza. Headed over to the games section (it took me a few rounds to figure out where it was because I kept getting distracted by cool stuff), and bought:


Lucian Bees Justice Yellow and Evil Violet, yaayyy! I've been wanting to buy the Yellow for forever and held off. Also the VitX to Z fandisk, heehee. I almost didn't get the Gekkan Ryouran Romance because I thought I might find it with an extra somewhere, but I couldn't resist. And finally Arabian's Lost DS, maybe now I will finally be able to get the tutor guy…whatever his name is.
And now a summary of everything I've bought for myself, otome-wise, so far:


Not bad…if I do say so myself.
October 18th, 2011
My netbook lost power for a couple days, so I couldn't really do much on it, but I didn't do much shopping anyways.


I got a Betsuma to check out the stories and because it was big, but the furoku was just an extra little book of short stories. Cute but not amazing. I actually read most of it and left it in Kyoto, along with the Lala and LalaDX, because they are waaaay too big and heavy to lug around. Oh, the clearfiles are ones I got at the 100Y store because, hey, Y100!!
And I also got Kyun, one of the magazines that runs otome comics (like Hakuouki), because the furoku was awesome:


Three extra comic books, and two of them included drama CDs!!
On the day we left Kyoto, I got these:


Weekly Jump, which just came out, and a special of Betsuma called Sister, mostly because it had a short by Takanashi Mitsuba (Crimson Hero) who I love. And I had a few hours on the shinkansen to read them, perfect!
Once we got back to Tokyo, we headed out to Akihabara.
From Traders, a used game store, and animate: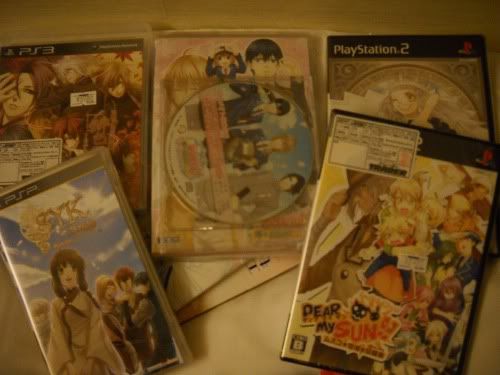 Dear Mine Sun!! I wasn't sure if I could find this so I'm very happy. Also, I got Asuka, with an extra, yay!
The one in the top right has been argued to be one of the first otome games, Abarenbou Princess. I don't know if it is, the description doesn't really sound like it, but it was 105Y!!!! So of course I bought it. I think that was from the Book Off in Akihabara.
So, a couple days of no posting, sorry about that, but expect a big post tomorrow! I'm stationed in Shinjuku now, and am poring through my Otome Shopping Guide in preparation.
October 15th, 2011
Aw yeah, today it started raining hard so I had time to myself, and of course I took that time to SHOP! I went to two Book Offs and an animate (I think the only other one in Kyoto).
Here's what I got at the first one, showing that sometimes great finds are available in the less central stores: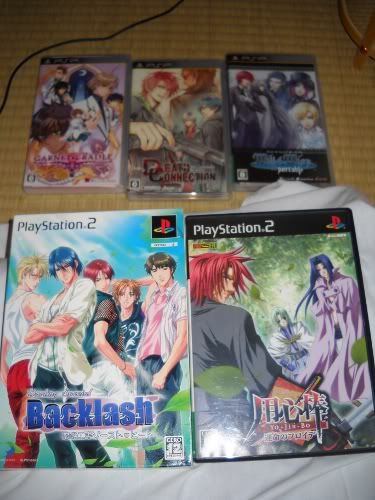 See those two at the front? BACKLASH. And YO-JIN-BO. Two extremely old games that I've been keeping an eye out for for years! And they were each Y500. Ooooh yeahhhh. The others, Garnet Cradle, Death Connection, and Will o Wisp, are games that I wanted but not enough to look for full-priced versions with extras. I don't think they were that much cheaper than a new game (probably about $10 off), but that's ok.
Then I went to another Book Off and got:


Storm Lover fandisk, cheap Edel Blume limited edition which I never got when it came out, Hana Oni which I never heard much about (anyone play it?), Sensual Phrase, and Suikoden I and II – yay for old RPGs! It's great, everyone should play it
And finally the other animate in Kyoto: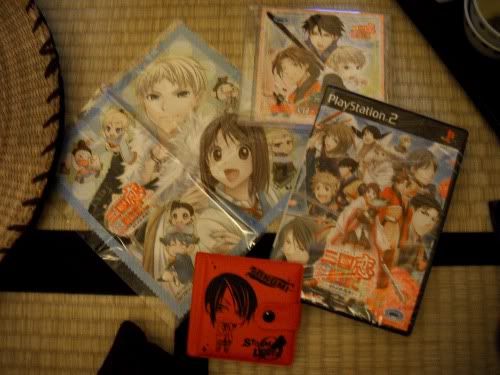 Not especially a lot, but they still had an extra for Sangokuren Senki, which I really wanted. I was kind of torn between buying this and waiting to see about the PC version. I decided to get it, and the extra is a special drama CD and a handkerchief/cute facecloth, and because of this points thing they're doing for games, I was able to get a little folder thingy of Storm Lover. Yay! I love this stuff, even if I don't use it.
That's it for yesterday, tomorrow's post will be pretty bare. But…only a couple days till Tokyo!
October 14th, 2011
Today I made up for several quiet days by going to both a Book Off and an Animate, and spending quite a bit (though not nearly as much as I'll spend in Otome Road, I know!)
At Book Off I was checking out the games mostly. They had quite a few otome games, but mostly older ones that I already had (at least 6 months old, many from a couple years ago). I did buy two games there, a Gintama game for the PS2, and Angelique Duet for the DS, for under Y2000 each.
Then I made my way to the Animate near Shijou, and spent about an hour just walking around trying to decide what to buy. They had a lot of otome games, and I bought several, especially ones that still had the animate special items with them.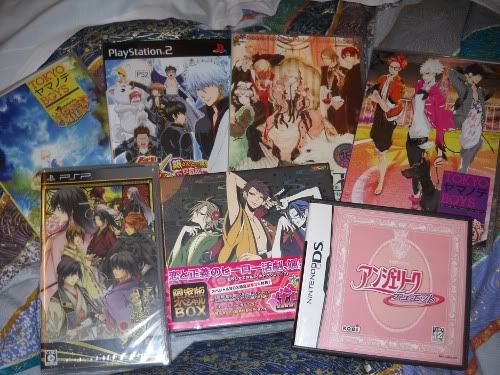 The games I bought – Gintama, Wingfield Princess, two Yamanote Boys, Angelique Duet, and Iza Shutsujin! Koi Ikusa.
If you don't know what I mean, specialized anime/manga stores like animate will often give bonus items to encourage you to buy at their store. For otome games it's often a drama or music CD of the game you're buying. Here are the ones I got: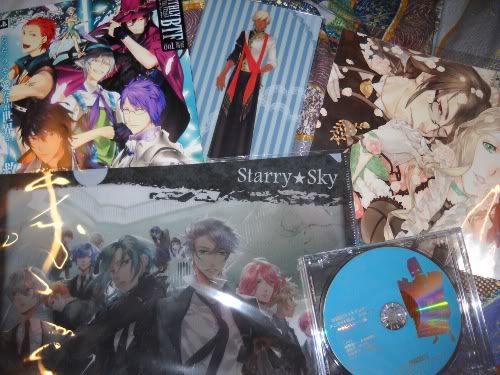 Ok, the top left was just a free flyer for Beyond the Future, but I like it – it has a short story prequel for Kirite. Then there's a small clearfile from Wingfield, two replacement covers for Wingfield, the drama CD especially for Animate for Hotokensaa, and a big clearfile of Starry Sky that I got for buying so many games
I really like the Wingfield covers, not only are they doublesided with cute comments on the inner side, but now instead of the pic above, my game looks like this: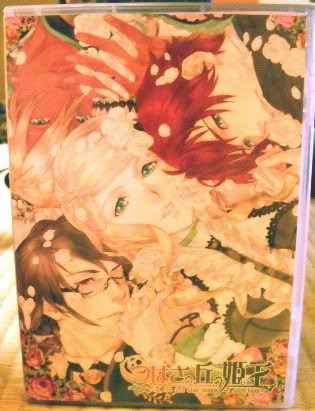 Much nicer, and without the 18 sticker
I bought the limited edition of Hotokensaa, because (1) it was recommended, and (2) it's so cheap – only Y4000, and you get all of this:
In addition to the game CD in a really nice hard case, there's a drama CD and a soundtrack CD, two tickets to events (one I already missed and the other is in November unfortunately so I can't go, and the intro booklet.
Of course, they also had a bunch of other merchandise, but I didn't buy much of that, I figure I'll wait until my last stop (in Tokyo) for that stuff – it's too easy to buy a lot on impulse and then regret it later. It's interesting to see what has a lot of stuff, whether it's pushed by the maker or produced due to fan demand I can't tell, but I think Starry Sky had the most (they had the kissy face cushions! I don't know if I could ever buy those in person), then Hakuouki, and Uta no Prince-sama had a lot as well.
October 13th, 2011
Hardly anything yesterday and no otome stuff. I accidentally bought Shonen Sunday for the shinkansen, and later bought Shonen Jump (what I meant to buy earlier) for another train ride. Only read three or so stories in Sunday, and Jump I'm working on (still going through the Lalas too!)
Now we're staying in one place (Kyoto) for a few days, so I am definitely going to get to an Animate and Book Off soon.
October 12th, 2011
Yesterday I didn't buy much, just stopped into Tsutaya in Osaka.
I got the latest Lala, Lala DX, B's Log (November! I hope I can find October…), and Girls Style. It's hard to see, but the B's Log cover says that Tokimemo 3 is coming to the PSP!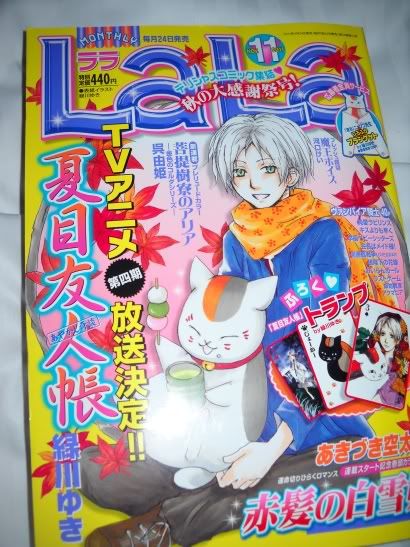 Lala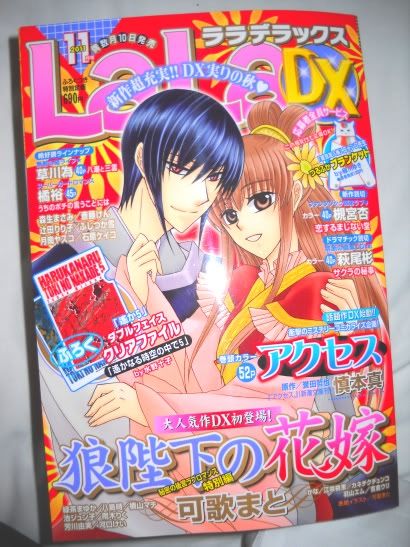 Lala DX