Happy New Year a day early (or right on time for anyone over the date line)! The prequel for Ivan is up on the LOVE.101 site! This is the first of a series, one for each guy, and the next one will be in January for Raj. I hope it gives you an idea of what each guy is like. If you have comments, you can leave them here or feel free to email me! (lijakaca at yahoo dot com).
I've now finished all the routes (there are four each) for three characters – Fuji-sensei, Aoi, and Wabisuke in Gekka Ryouran Romance. The four endings are decided by two stats, kindan no koi (forbidden love) and junai (innocent love). Each of these stats is further split into Hard and Normal endings, so for each character, there's Kindan Hard, Kindan Normal, Junai Hard, and Junai Normal. The Kindan endings are totally different from Junai, and even Hard and Normal can be really different, so it's worth doing them all. If you use the La Primavera guide, you can do up to chapter 5 for each character and then get each separate route in chapter 6, as long as you get the Blackouts – a minigame at the end of each chapter which is fairly simple. You roll the joystick as fast as possible to reveal a picture underneath, and if you succeed, each one will give you 5 extra points in both junai and kindan.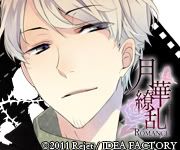 Each character has their own major issues – and so far they're fairly serious. Fuji (CV: Hirata Hiroaki) has a lot of baggage from an abusive relationship from his past (to not spoil things too much), Aoi (CV: Terajima Takuma) has a really good reason for not caring about the future (and no, he doesn't have a terminal illness), and Wabisuke (CV: Hino Satoshi) has an obsessive sister complex. Wabisuke actually was a big part of one (two?) of Fuji's endings, that's why I got interested in him.

This game is, as advertised, pretty dark. In each route, the other characters seem fairly normal, but when you get into their routes, they`re all pretty messed up by one thing or another. I`ve enjoyed the stories, they`re all very different, although I still don`t really get why they focus on Nazuna so much (except Wabisuke, he has history with her). They all say things like she seems really pure, and they want some of her innocence, but whenver I see things like that I wonder that they couldn`t find any other normal girls at their school – Nazuna is principled but not usually a martyr, and at least one of her classmates seems just as nice as her. But this is something that you sometimes have to just accept in an otome game, and as long as you can suspend disbelief about that, most parts of the story make internal sense, even when it`s twisted sense.
There`s also sex! Of course it`s off-screen, but it`s fairly plainly laid out (it`s usually in the kindan hard route), and I found that very believable, because let`s be honest, angsty teenagers in love usually don`t stay chaste. Lastly, something I really liked was the monologues at the end of each chapter by the guy you went on a date with – it gives an idea of what they're thinking and some foreshdowing, without taking all the suspense away.

Overall, I`d recommend this for people who enjoy angst and real drama, as long as you can handle some heavy topics like abuse, mental instability, suicide attempts. etc. This is not the game you want to play when you want cheering up, but the characters are all fascinating in their own way and I do want to finish the rest of the routes. I think I'd even buy a fandisk, because there are three teachers who are fairly involved in the stories, but you don't get to really know them well, and they're all really good seiyuu as well, so I'm hoping that the fandisk will include scenes/routes for them (and considering one of them got 3rd place in the character popularity contest, there's a good chance!). There is a drama CD and fanbook coming out in January as well.
Just an update, on December 31 (this Saturday) the LOVE.101 site will be updated with a short story. This is the first of monthly short stories to introduce the guys, so please check it out!
No posts until Friday! Off doing holiday stuff, but I am also playing through some more Gekka and Angelique. The Friday post will probably be a Gekka review.
I have to add some pics to the other news post, but for now, B's Log had some announcements!
there was another character revealed for Yura's new game Hana Aware

I *think* his name is Karakurenai and he's one of the five Lights. He's very confident, enjoys fighting and bloodshed, and controlling.
Starry Sky After Winter will be released Apr 27 for the PC
Finally I think I understand what TYB (Tokyo Yamanote Boys) Sweet Jelly Beans is – it's the compilation of all three original games, plus a route for the murderer (I hope it's good, it would take A LOT for me to be interested in a killer…although there was Kurayami de Kimi o Matsu…) – it's out this January
Speaking of TYB, they've announced fandisks for EACH of the original games (and I used to think Jelly Beans was the fandisk, how wrong I was!) with stories about after the competition. Fresh Ginger is the FD for Honey Milk, Pure Raspberry is for Super Mint, and Black Vanilla is for Dark(?) Cherry.
Hiiro no Kakera anime!

What do you think about the designs?
New PSP adaptation from a cell game from the same team that did Iza Shutsujin! – this game is called Abunai! Koi no Sousashitsu (Danger! Love Investigation Room), and is a detective game, totally different from Iza which was set in the Sengoku period (and which I still have barely started)

December 21st, 2011

B's Log will probably get here tomorrow or Friday, but I got the Girls Style and Cool-B.

Apparently 2012 is the year of police and detective games! There's the Detective VitaminX game (in Feb), and Karin's new game Eikoku Tantei Mysteria (with the son of Lupin III as a master cat thief!), and the new Tiny Machine Gun from Rejet, with the first CD coming in February and a game in September.

A few pages on Black Wolves Saga, which as I thought has the artist from Gekka Ryouran, and will be released in two segments – one, Last Hope, for the PSP, and the other, Bloody Nightmare, on the PC! In Last Hope you're with Russ Bogard, a wolf boy, and in Bloody Nightmare you're with two cat boys, Mejojo (pronounce the j's as y's) and Uuger (pronounced Ooje) von Garibaldi. LH is supposed to be a story of true love, whereas BN will show twisted love. Taking advantage of being on the PC, apparently there will be several 'shocking' scenes (it's not R18 though, so I think they mean disturbing/violent). Now, is this actually an otome game? It actually sounds more like a visual/light novel.

New game from ASCII Mediaworks and Vridge, Koi wa Rule ni Shibararenai, for the PSP. In this game the heroine is suddenly appointed as the president of her school (not of the student council but the school!) She can change school events and rules, but the student council has a say as well and can either agree or oppose her decisions. Part of this game is trying to make the student council acknowledge you as the president. Next issue will have the cast, so I might do a post on it then.

Custom Drive is a different sort of otome game coming from D3P – you can customize your boyfriend, not only with accessories, hairstyles, and clothes, but even change their personalities! The producer says players shouldn't worry too much about playing 'correctly', but just play how you want and enjoy the game. Each of the three characters introduced have their own short story up on the website that you can access through a QR code – I'll have to see if mine works. They also have English descriptions (in SHOUTY CAPS, hehe):

Riito Touma (CV: Toyonaga Toshiyuki from Durarara!!): HE IS YOUR CHILDHOOD BOYFRIEND. Ok then!

Ruka Mayuzumi (CV: Hosoya Yoshimasa): HE SEEMS TO LOVE YOU, BUT…? Sounds ominous!

Shion Kannagi (CV: Kimura Ryouhei): YOU WILL COME TO KNOW HIS SECRET. I hope it's good!

More info on Koisentai Love & Peace for the PSP. I still haven't listened to my drama CD of it, so when I do that I'll post on it.

Sangokuren Senki is coming ot the PSP! (I don't remember hearing about this but it may be old news) New events and CGs will be added, and an 'episode' for Genjou as well.

A new game from Takuyo – Kami-sama to Koigokoro for the PSP, where the heroine is training to be a nun and three of the guys are priests-in-training. Another love interest is a priest!

A new character will be available in Harutoki 5's fandisk Kazahanaki. Rindou is a totally new character, an onmyouji who helps the heroine but acts cold to her, telling her to give up on being a miko. I thought they were missing something and I just realized – Harutoki 5 had no purple-haired bishounen! Rindou is a totally necessary addition. And Sou will also have a route!

Fandisk for Amnesia coming in March -= it's called Amnesia Clatter.

And finally, there's a teaser for a new game from Otomate, Hakuouki and Hiirno No Kakera's producer and miko, the artist from Beastmaster and Prince. Not much is shown, but it's set in the Sengoku period and apparently about oni. It looks very cool, I love miko's art.

That's all for now, more to come on Friday with B's Log!

December 19th, 2011

When I first started this game up, it was more just to get an idea of it, as I didn't have much time. I was still in Japan and in the midst of shopping heaven, but I couldn't wait to see what it was like.

The first thing I thought was, ooh pretty! It has a distinct art style, partially in the characters but even more in the menus and dialogue boxes, with little details like a rose indicating the end of each sentence which is depetaled when you click for the next statement. the dialogue boxes are also vertical, besides the characters, which I feel makes a lot of sense on the widescreen PSP. The character art as well is very pretty, with wispy hair and shading that fades from light to dark on each character.

At the beginning, Nazuna is living almost alone while her parents work long hours and her older brother is away at a boarding school. She's very focused on grades, especially after being dumped a while ago, and is at the top of her class.

Then her parents move away and she's sent to board at the same school as her older brother. When she gets there she's the object of attention from a select group of students in the 'date club', which sounds like a host club but even more sketchy since you go on dates potentially to secluded areas where you can do pretty much anything. They trick her so that she owes them money for dates (which she didn`t want), and a huge amount at that – over $10,000 by my estimate. She doesn't want to pay, and I really liked her for this. If she had been alone she would have resisted to the last, but her brother is vulnerable since these students are all very powerful, so she agrees to a bet for the money: she'll go on dates with them, and if she doesn't fall for one of them, she wins and the debt is waived. If not, her brother has to join the club and pay the debt back 300Y per date at a time (this after saying their fee is 300,000Y each time). Also, until they decide the game is over, her brother joins the club as collateral.

Interesting, no? What's also interesting is the whole feeling of this group being totally corrupted and generally immoral, which they really play up. I remember this being marketed as a very dark story, which aligns with this feeling. One other thing I loved is that Nazuna doesn't just give up at this point, but tries to go to the authorities! She realizes that yeah, having a brothel openly operate on campus (not sure whether it goes that far, but they definitely try to give the feeling it does) should be way against school policy, and she goes to a teacher. Unfortunately, the date club students and their parents pay a ton of money for the school to overlook everything they do, so unless they're caught doing something really illegal, the club is allowed.

This is the intro part, before you choose who you want to go on dates with, but it's really long in-game. The first time I played I barely got to when Nazuna transfers schools.

However, once you get past the establishment of the bet, it goes fairly quickly. I'm almost done Fuji's route now, and will have a review of that up soon.

December 16th, 2011

So, Peter! I knew he would eventually be an adult because of the CGs and the box art, but they way they handled it was pretty interesting. I won't say what it is because it's a spoiler. There's still a big mystery around him at the end though – I think I know what it is but I'll have to play the rest of the game to see if you ever find out.

At first Peter is just a mega-annoying kid who likes to run around and be loud, and is totally selfish even with his 'lost boys', the other kids who live with him. They're more like his servants, who always do things for him and try to think up games to amuse him – often ones that are dangerous/uncomfortable. While getting into his route, Wendy decides that he's more ignorant than bad, and she'll reform him, and she goes about correcting him and pretty much treating him like her own kid. Peter doesn't seem to mind, although he humours her only because he likes her, and he admits to doing so. He has no sympathy for anyone else, and assumes he can do whatever he wants whenever he wants.

As Wendy gets to know him, Tinker gets more and more jealous, and finally Peter tells her off directly. As you might guess, Tinker comes back later and confronts Wendy, and this is a major turning point in the story.

Another thing that happens in this route is Peter trying to get Wendy to eat his candy, and her gradually giving in. I thought this was done well because it's related back to Wendy's complex about her mom, who never cared about her after her father passed away no matter how hard Wendy tried to please her. It's also slowly shown to relate to Peter's feelings about his life before Neverland, although this part isn't shown as much. This is where their relationship really grows, and it's pretty believable.

During Peter's route I did feel bad for Michael and John, especially John, but hey that just means I have to do their routes next. I'm looking forward to seeing how Wendy deals with her family issues there and if it ends up very differently.

And ending on an Angelique note, I FINALLY finished the knights route, and yes I think I will love it in the end, though I was kinda fast-clicking a lot of parts. It pretty much went down the way I thought it would, though more dramatic and awesome. And now I get to go for Gerhart, yay! (yes Gerhart! Tachibana Shinnosuke doing a dumb but nice guy that uses a huge sword, what's not to love!)

December 15th, 2011

I realized that I didn't say much about the story of Angelique last week, just the characters. The intro is really long and honestly boring at times, so if your Japanese isn't great, or you give in to the urge to skip, you might find this useful.

Theresa lives with her adoptive mother and brother, Runo, in a small town on the planet Norg (style looks Medieval Europe-ishi). Runo acts younger than his age, because he was traumatized several years earlier when his older brother died, and he thinks it was his fault (I think the situation was one of those things like he died while looking for Runo or something).

In the town there have been several girls kidnapped recently, but they were each returned after one night away. And of course, one evening when Theresa is out to fetch Runo, who's been praying to his brother in the nearby church as he often does, Theresa gets kidnapped. However, she's returned after one night, and she doesn't remember anything. Runo was really upset taking the blame for her kidnapping on himself, so he's ecstatic when she comes back unharmed. He goes out to gather some fruit (IIRC), but this time he doesn't come back. Theresa and his mother search far and wide for him, but there's no sign of him. After a few days, the mother goes back to work, confessing to Theresa that she always felt that one day Runo would leave her. Theresa can't stand the thought of just giving up, so she continues looking, and after a week she is looking in the forest when she finds a new path that she doesn't recognize. A man shows up and suspects her of being a spy, and when she's too afraid to answer, he says he'll kill her to keep her silent. Theresa is so scared she runs away deeper on the trail, and comes to a large fortress. She sees many men doing military drills in the courtyard, and is looking for a place to hide when two men notice her.

She runs away again back into the forest. Somehow (sorry this part is hazy, and it doesn't matter much) she passes out from fear, I believe because the first man has shown up and is threatening her again. When she wakes up shortly afterwards, many men are around her, including Runo! She's very happy, but Renour says that he's not going back home with her, he needs to stay there. Theresa doesn't understand until a new man comes who seems familiar, and Runo calls him brother. The leader of the men, Levias, is a ringer for Runo's dead brother, and Runo feels that he's supposed to help Levias (also, this kid is very emotionally fragile). When she realizes his determination, Theresa decides to stay as well, and convinces Levias by saying she'll take care of Runo. She's also very surprised to learn that not only is he in Levias' army, he's a captain! All the men are, and Runo is learning magic from Levias.

I believe this is where the intro ends. The army is actually kind of a mercenary army, travelling throughout the universe (yeah they have a spaceship) and helping local wars be ended quickly through their overwhelming strength. The first time through you can't get a character ending, so you go through the story of taking care of Renour, having him accept the violence of war, getting to know the other knight-captains, and eventually (IMO this part took too long), Theresa realizing that she has magic capability as well. You see, even before they met everyone, Theresa could always feel where Runo was, though vaguely. And after being kidnapped, she could tell exactly where he was – it was how she eventually found him. During their time at the fortress, the enemy (who at that point was unknown) attacked with magic, and Theresa somehow felt where the magic was coming from, allowing the knight captains to capture and interrogate the enemies. Though all the captains know about her ability, apparently it doesn't occur to anyone that maybe Theresa would be more useful as a magician than the maid and quartermaster (that's what she ends up doing most of the time, including making tea for everyone).

When she finally does start learning magic is after an episode where the fortress is attacked, and Levias says they need to power up the spaceship using Runo's magic (Levias and other magic-users contribute as well, but Runo's magic is pretty strong). But Runo is in no shape to use magic, and Theresa asks if she can try. She ends up filling the whole thing almost by herself.

Between the fighting and training scenes, we find out that the attackers are the Empire which rules the universe. Right now the Emperor is the fourth son of the previous Emperor, and Levias really doesn't like him. It's also implied that Levias is part of this family as well, and is planning a coup.

I've just gotten through a major plot twist, so I won't say more than that as it's probably near the end. But as you can see, the story of Angelique Maren Rokukishi is pretty complicated. I'm not sure how I feel about being forced to do a plot ending before I can really get into the romance – it's not too bad, and you still get to know the guys, but not in depth, and the story can drag sometimes when characters are talking strategy and tactics – not just Levias' army but you also see the Empire side. I also am hoping that in the other routes there's less Runo, as he kind of annoys me whenever he shows up.

This is Otomate, so of course the art is pretty and the seiyuu are great. I love how the guys are actually varied in body type – you can see how Gerhart is large and strong and Giovanni is shorter and more lithe. In the first route there haven't been many CGs, which is fine with me as I'd rather have them focus on the character routes. I think I'll really like doing those, as several appeal to me, but right now I don't even have much hint of what their route might be about (though it doesn't stop me from guessing!). I bet once I start one of those, it will go really fast, but I have to admit right now I'm playing through just to get to the end.

So a bit of a lukewarm review right now for Angelique, but I'm hoping that will change. And now that you know the first 2/3 of the prereq story, you can just speed right through that and get to the good stuff

December 14th, 2011

Whoa, I thought I published this yesterday (monday EST!) Well, I'm still keeping to the new schedule, so expect an update on Wednesday EST!

If you've seen the Disney movie, then you know how pretty much how this starts. The kids are older though, the youngest Michael (CV: Tachibana Shinnosuke) is still in school (he's probably around 18). The older brother works in the dad's company, and Wendy is the homemaker. Her own mom, who remarried a few years ago, is a workaholic, and we just see a bit of her treating Wendy coldly before she goes to work (after dinner).

That afternoon while grocery shopping, Wendy had a weird conversation with a boy whom she thought was lost. She didn't think much of it, but Peter (CV: Ishida Akira) shows up at her window that evening and tells her he's bringing her to his world. Her brothers hear a commotion and come running, and he says they're all coming with him. Tinkerbell (human-sized) shows up and, though she dislikes Wendy on sight, sprinkles fairy dust on them and they all float up out of the house (their dog Nana comes as well).

Peter takes them to the other side of the moon through a long tunnel that's so dark no one else can see.

The reason why they're all taken to Never Never Land is to judge a competition. The major residents of Neverland (Peter, Hook (CV: Okiayu Ryoutarou), Scissor (CV: Miki Shinichirou), and Tink (CV: Sugiyama Kishou) periodically have competitions. Usually Scissor (being a navy official) is trying to kill Hook (being a pirate), and Hook is trying to kill Peter, but during competitions there's a truce. At first, Wendy doesn't want to be a judge; she's vowed not to eat sweets ever and is very stuboorn about her principles, but she agrees because she's afraid of Tinkerbell (who already tried to kill her once on the journey to Neverland), not to mention all the dangers of Neverland like Hook and Scissor's pet crocodile, and the judges are also protected during the contest.

The problem is that the contest requires all the judges to agree on which candy is the best. Since Wendy and her older brother John (CV: Yusa Kouji) refuse to try the candy, the contest can't end and they can't leave. Michael is the only one who seems to be enjoying himself on Neverland, exploring and enjoying the candy – oh, I forgot to mention that in Neverland, candy grows everywhere, even in houses (which are grown from seeds).

And so begins the story. After this intro (yeah it's pretty long), the story progresses by choosing where to go each day, talking to the characters. After a few days, you get locked into a certain route. And on Wednesday, since I doubt I'll finish Angelique or Gekka Ryouran Romance till then, I'll review Peter's route