Archive for January, 2012
January 31st, 2012
I've just posted a little prequel story for Raj on the LOVE.101 site! Please take a look and feel free to leave your impressions here or via email! I just managed to squeak this out, I want to get Al's out earlier in February.
January 30th, 2012
Not a ton of news this month, but definitely some things to watch out for:
From Otomate:
L.G.S – Shinsetsu Houshin Engi, another classical Chinese novel adaptation. I don't know anything about the source material, but the setup is that in ancient China, there's the human world, and then the ascetic world. In the human world, the good king Chuuou was made to do evil things by the machinations of Sotatsuki, so the ascetics decided to seal her. Because of her skill, Yousen was nominated to do this.
Yousen, the heroine, is regarded as a genius ascetic (sennin is hard to translate, I always think of them as wise men but obviously she's not a man, and they seem to have special powers pretty often) and lives on Mt. Konron. She's not very sociable, but is meek when talking to her teacher, Gyokutei Shinjin. She was also turned into a youkai somehow by her father as a young child. Apparently depending on your choices during the game, Yousen will either remain a sennin (light ending) or become a true youkai (shadow ending). I'll do the characters once the seiyuu are announced.
Arabian's Lost: Quinrose is redoing this for the PSP! I'm kind of excited for this, because I really liked this game way back when it was released for the PS2. It was my first Quinrose game and I loved the non-standard characters. You might recognize Curtis Nile from Crimson Empire, here you can actually get him! The art's all updated too, which is good, although I'm not sure about Shark's redesign. Tyrone definitely looks better though. The article in B's Log doesn't show Maisen at all, so perhaps his parts are being removed?
Also, the seiyuu for Abunai Koi no Sousashitsu (scheduled for May 31 release on the PSP) are announced:
Mikechi Masaomi (CV: Maeno Tomoaki)
Fujimori Kenji (CV: Kondou Takashi)
Kisaragi Kouhei (CV: Tachibana Shinnosuke)
Ogasawara Ryou (CV: Suganuma Hisayoshi)
Onose Aoi (CV: Morikawa Toshiyuki)
Hozumi Rui (CV: Miki Shinichirou)
Fujimori Takashi (CV: Narita Ken)
And there are screenshots of the different areas in Bakudan Handan which SOUND like they're different types of minigames, which would be great. However I still can't find any description of gameplay in articles or on the website, so I'm not going to assume anything.
That's about it that I can see, of course there's more info on several fandisks and upcoming games, but mostly just scene descriptions. Oh, and a new character in Jyuuzaengi, Bachou (CV: Sugita Tomokazu)
January 26th, 2012
Since my B's Log STILL hasn't arrived, I figured I'd do an upcoming games post, which I was originally planning for Friday.
The next few months are pretty good for otome games, not only are there several new games coming out, but several with interesting GAMEPLAY. I know it's a remake, but the PSP Tokimemo GS3 looks awesome, and I can't wait for the otome Atelier game!! Alchemy!! Also Hakuouki Musou, I don't know if I'll pre-order it, but I hope it's good. Don't know if it will have romance in it though. I never did buy the action adventure game Otomate put out where you go through dungeons – Ore wa Omae ga Mamoru, I think it was? Oh, and I'm really looking forward to Koi Sentai, especially after enjoying Hotokensaa (though I'm still hoping for a fandisk or something there…). I listened to the first drama CD over the holidays and it was cute. And let's not forget Jyuuzaengi! History and catboys, what more do you need?
Here's the list, what are you interested in?
Jan:
Kannou Mukashibanashi
Renai Banchou 2
Tokyo Yamanote Boys Jelly Beans
Feb:
VitaminX Detective
Beastmaster FD PSP
Midnight Bells and Cinderella
Hakuouki Musou
Hitofuta Kihyou
[R18] PersonA
Mar:
Utapuri Debut
Tokimemo GS3 psp
Ouma ga Toki
Hanaoni FD
Atelier Elkrone
Amnesia FD
Apr
Armen Noir PSP
Exorcism of Maria FD
Soukoku no Kusabi Hiiro no Kakera 3 FD
Jyuuzaengi
Brothers Conflict Passion Pink
Bloody Call FD – tentative
Starry Sky After Winter
Black Wolves Saga Bloody Nightmare
Tokyo Yamanote Boys Fresh Ginger
May (spring)
Kamisama to Koigokoro
Kimikare New
Koi Sentai
Xechs FD PSP
Harutoki 5 FD
Miyako FD
Akai Suna Ochiru Tsuki
Oh, and a Tokimemo PV just came out, so here it is! I gotta say, the animation looks really good here:


January 24th, 2012
Boo, my B's Log didn't come today, but I really didn't have time to read it anyways.
I did find THIS: Japan Otome Festival 2, happening late February.
I know there are lots of events for otome games in Japan, though I've never been to one. This one though, is a collaboration between Neoromance and Otomate and B's Log, so it's pretty big. It's basically a two-day stage show, with a HUGE number of seiyuu doing live sketches in character, songs, and some discussion (in their own personas).
Here's the list of seiyuu (and the characters they'll be performing as underneath):
伊藤健太郎 Kentaro Ito
土浦梁太郎(金色のコルダ)
井上和彦 Kazuhiko Inoue
橘 友雅(遙かなる時空の中で)/ 梶原景時(遙かなる時空の中で3)
岡野浩介 Kousuke Okano
鴉取真弘(緋色の欠片)
置鮎龍太郎 Ryotaro Okiayu
アクラム(遙かなる時空の中で)/ 白龍(遙かなる時空の中で3)
下野 紘 Hiro Shimono
桐生 祟(遙かなる時空の中で5)/ ルシア(猛獣使いと王子様)
関 智一 Tomokazu Seki
森村天真(遙かなる時空の中で)/ 源九郎義経(遙かなる時空の中で3)
高橋直純 Naozumi Takahashi
イノリ(遙かなる時空の中で)/ ヒノエ(遙かなる時空の中で3)
高橋広樹 Hiroki Takahashi
レイン(ネオ アンジェリーク)
津田健次郎 Kenjiro Tsuda
風間千景(薄桜鬼)/ 無責任番長(ビーズログTV 恋愛番長)
寺島拓篤 Takuma Terashima
桐生 瞬(遙かなる時空の中で5)/ シルビオ(猛獣使いと王子様)/ ヤス(恋愛番長 命短し、恋せよ乙女! Love is Power)/ 貴樹(闇の皇太子)
鳥海浩輔 Kohsuke Toriumi
藤原泰衡(遙かなる時空の中で3)/ 英 円/ビショップ(CLOCK ZERO〜終焉の一秒〜)/ 斎藤 一(薄桜鬼)/ セクシー番長(恋愛番長 命短し、恋せよ乙女! Love is Power)
浪川大輔 Daisuke Namikawa
海棠鷹斗/神賀旭(CLOCK ZERO〜終焉の一秒〜)
成田 剣 Ken Narita
アリオス(アンジェリーク)/ レヴィアス(アンジェリーク 魔恋の六騎士)
野宮一範 Kazunori Nomiya
狗谷 遼(緋色の欠片)
平川大輔 Daisuke Hirakawa
ベルナール(ネオ アンジェリーク)/ 大蛇 卓(緋色の欠片)
堀内賢雄 Kenyu Horiuchi
オスカー(アンジェリーク)/ 闇皇<御門>(闇の皇太子)
前野智昭 Tomoaki Maeno
不動翔麻(100万人の金色のコルダ)/ ヨハネ(アンジェリーク 魔恋の六騎士)/ 加納理一郎/放浪者(CLOCK ZERO〜終焉の一秒〜)
森川智之 Toshiyuki Morikawa
エルンスト(アンジェリーク)/ カイン(アンジェリーク 魔恋の六騎士)/ ホスト番長(恋愛番長2 MidnightLesson!!!)/ 安倍晴明(闇の皇太子)
森久保祥太郎 Showtaro Morikubo
沖田総司(薄桜鬼)/ ジョヴァンニ(アンジェリーク 魔恋の六騎士)/ 恋愛番長(恋愛番長 命短し、恋せよ乙女! Love is Power)
森田成一 Masakazu Morita
火原和樹(100万人の金色のコルダ)
吉野裕行 Hiroyuki Yoshino
藤堂平助(薄桜鬼)/ ヤンキー番長(恋愛番長2 MidnightLesson!!!)
代永 翼 Tsubasa Yonaga
天神 后(闇の皇太子)
Huge, right? For this event, they do 4 shows, 2 each day, and each one focuses on different titles. Tickets range from Y4800 to Y8800, holy expensive! But I guess for something that's so rare, maybe it's worth it. I've seen DVDs of these events as well, I wish I'd gotten them when I saw them. I wonder if they sometimes use the sketches later in drama CDs or something – it seems like a waste not to.
Anyways, I just saw this while I was lamenting the delay of B's Log and thought I'd introduce one more thing we miss out on outside of Japan
January 20th, 2012
Otome History 102! Not nearly as many otome games set in ancient China, but I wouldn't be surprised if it shows up more often. There's SO MUCH history there. I'm still playing and loving Sangoku Rensenki, and Jyuuzaengi is coming up soon from Otomate, which is also set during the Three Kingdoms, not to mention all the Dynasty Warriors games (totally not otome, but still!). [Edit: I forgot S.Y.K., which is based on a story, Journey to the West, or Saiyuuki, set in the Tang dynasty, AD618-907.] Commenter Julia was nice enough to send me this awesome overview of this period of ancient Chinese history, known as the Three Kingdoms. It's from roughly 184-280 AD, and is well-known in Asia partly because of the Romance of the Three Kingdoms, a hugely long, semi-historical piece of Chinese literature written in the 14th century. So here we go! From now on, this is verbatim from Julia, except for some ed. notes I put in parentheses.
Basic overview of the time period is that it's the end of the Han Dynasty, a 400-year reign of awesome like the Roman Empire, and eunuchs and warlords have taken too much power from the throne, leaving the masses to be oppressed. The droughts and famines really aren't helping. Suffering peasants join a former-official-turned-religious-zealot named Zhang Jue (often romanized as Zhang Jiao for some reason) and form the Yellow Turban Rebellion to take down the Han. Warlords assemble to repulse the movement, several (Cao Cao and Liu Bei are among the most important later) proving themselves capable and gaining official positions as rewards. The warlord Dong Zhuo is a jerk and decides to take the last Han Emperor and make him into a puppet ruler. The other generals assemble once again and try to take him down while carving out their own spheres of influence. Dong Zhuo eventually gets assassinated by Lu Bu, but the power of the dynasty has been irrevocably lost, and the empire devolves into a bunch of states ruled by warlords beating the crap out of each other, with three kingdoms eventually becoming the main contenders for the imperial throne.
Anyway, quick rundown of major players in otome games (there's a ton of stuff so don't worry too much about unfamiliar names and such; I am always willing to sperg more about the Three Kingdoms):
Okay, to fix any confusion, Sangokuren used the style names of all the characters (excepting the women, who probably had them but generally weren't recorded). Style names (generally designated with 字, read azana) were given to adults when they came of age in China (not unlike something the Romans did, I think)(Ed. also the Japanese, after guys came of age (genpuku) they got a different name e.g. Oda Nobunaga's childhood name was Kippoushi) and were used in public settings as signs of respect. Japan is weird about style names in their Sanguo stuff; when used in manga and games, they often take on a more private/affectionate nuance, so I'm not 100% sure about this. Buuut it's not like historiocity is a big concern for this stuff…
Cao Cao, styled Mengde (Moutoku) is the big badass of the Sanguo period. He was a brilliant politician, cunning strategist and gifted poet who knew how to surround himself with the best men available. He eventually gained and held sway over most of Northern Imperial China (much smaller than modern China but still pretty huge) as the leader of the kingdom of Wei. He was also kind of a huge jerk (for pragmatic reasons, but still), which gets played up in just about every media representation of him ever. (He is one of my very favorites. Even though I have like 20 favorites in the Sanguo period alone.)
Generals operating under him include his cousin Xiahou Dun, styled Yuanrang (Genjou, aka the guy they're actually adding a "route" for in the PSP version because he is so awesome), best known for eating his own eye out of filial piety in operas/the novel, Xiahou Yuan (Dun's agile archer cousin, featured in Jyuuzaengi), Xun Yu Wenruo (Bunjaku, who was one of Cao Cao's most loyal and able administrators and secretly Miles Edgeworth if Sangokuren is to be believed [don't ask]), Zhang Liao Wenyuan (don't think you'll have to know it, but Bun'en), who almost captured Sun Quan singlehandedly at the battle of Hefei, and many, many more. The eventual patriarch of the victorious Sima clan, Sima Yi, worked under him and eventually usurped the throne from his descendents (who themselves had stolen it from the last of the Han).
Liu Bei Xuande (Gentoku) kind of came out of nowhere as the leader of a volunteer army against the Yellow Turban rebels. He claimed to be a descendent of a Former Han prince, and thus tried to restore the Han throne, eventually founding the southwestern empire of Shu-Han around what is now Sichuan. His particularly Chinese sense of honor and humanity (meaning these virtues don't necessarily match up with modern Western interpretations of the words) are played up in media to contrast with the "wicked" Cao Cao. (One of his most popular scenes is when he actually takes his people with him by their request while being chased out of his domain by Cao Cao.) He's also often presented as kind of a naïve dweeby coward, but historically was pretty damn savvy. He got married off to Sun Ren (aka Sun Shang Xiang) as part of a political ploy, but they split up when tensions between Wu and Shu got too strong.
In operas and the in novel, Liu Bei swore brotherhood with Guan Yu Yunchang (Unchou) and Zhang Fei Yide (Yokutoku), both of whom were supposedly warriors worth a thousand men. Guan Yu was known for his long, beautiful beard (Cao Cao seriously gives him a beard bag in the novel) and is often depicted with a guandao (the big blade-onna-stick) and the horse Red Hare. He actually ended up becoming by far the most popular of the brotherhood, and is now one of the most worshipped gods in China.
Zhang Fei got drunk a lot, was really strong, and that's pretty much all you need to know. Oh, and in the novel, he held off thousands of soldiers at Changban Bridge so his brother could high-tail it away from Cao Cao. (I like him okay, but he was seriously as dumb as a brick at times.)(Ed. Figures he's one of my favourites, I tend to love strong dumb guys in otome games)
Zhao Yun Zilong (Shiryuu) operated under both Yuan Shao (I think) and Gongsun Zan (both of whom were warlords eventually defeated before the three main kingdoms were established) before pledging himself to Liu Bei's cause. He was pretty boss in both the novels and history, being both a scary competent tactician and an excellent warrior.
The most amazingly overpowered character in games tends to be Zhuge Liang Kongming (Koumei), who supposedly agreed to join Liu Bei after the latter visited him three times and turned Liu Bei into a viable contender. Great strategist (sadly a bit overrated in general) but where he really shone was in domestic administration. Also had a pretty awesome wife by all accounts (Lady Huang was so smart she apparently made cooking robots and stuff), so I like him a lot.
Wu is my least favorite kingdom, so I can't give you much info on them that isn't laced with "and I hate this guy so much because blah blah blah." (For me, Shu will always be the best kingdom, followed closely by Wei, so Wu is my default bad guy.) The ruler Sun Quan Zhongmou (Chuubou) was the little brother of the man who actually founded Wu, and Zhou Yu Gongjin (Koukin) was a brilliant strategist who gets character-assassinated in the novel (which I find pretty hilarious but your mileage may vary). Zhou Yu is always popular because he was historically known to be very attractive, but he's no Sima Yi or Kongming because he's dead by age 35. Lu Su was the best character not named Lu Meng and I almost wish he had a real route.
Unaffiliated people you may see: Yuan Shao and Yuan Shu were warlords (either brothers or cousins) who wanted the imperial throne for themselves. Lu Bu Fengxian was a Zhang-Fei-esque asshole who betrayed everyone he ever served but was such a badass warrior that nobody could call him out on it. Dong Zhuo was a tyrant who was later betrayed by Lu Bu and totally deserved it. Diao Chan as far as we know didn't actually exist, but in the novel managed to move Lu Bu to betray Dong Zhuo.
For what it's worth: Guan Yu and Cao Cao have an interesting relationship (no not like that… okay maybe) in the novel, meaning that there is fodder galore there for Jyuuzaengi. Actually, they chose the capturables really well, since they all have some interaction with Guan Yu in the novel. (I'm especially looking forward to Zhang Liao's route since he was a certified badass. Though maybe not as much now that I know he's played by Yusa Kouji… D:)(Ed. Hey now, I love Yusa Kouji! Mostly because of Guido in Lucian Bee's.)
Thanks so much Julia for this, it makes me love Sangoku even more, and I'm looking forward to Jyuuzaengi! Yay historical games!
January 19th, 2012
I've been playing through several heavy story games on the PSP and got a bit burned out, so for something a bit more casual I put in Storm Lover. It's great during times when I only have a few minutes, because there's no huge plot you have to remember, you can play a few days quickly, and you really don't need to use a guide. It does take a while to get through a year, but overall it's great. It's kind of like Tokimemo, but less random in who you encounter, and easier in general (no need to figure out what subjects or datespots your guy likes!)
After finally getting Kyousuke's (CV: Terajima Takuma) best ending (I think), I thought I'd try the fandisk, Storm Lover Natsukoi!! It plays pretty much like the original, except compressed into a few days of a beach field trip, with no need to study and higher limits on texting, as well as a little minigame to choose who you sit beside on the bus to and from the beach. There are two different modes, you can choose to start either already dating one of the guys or single. I don't know what happens in the first mode, but I think you can build up someone else's affections like in the original and have some love triangle drama. I believe that you can also get endings with two side characters, Takashi (CV:Kimura Ryouhei) and the school nurse Inuzuka (CV: Onosaka Masaya, or Momoshiro, for any PoT fans out there), and a totally new character Shiina (CV: Okamoto Nobuhiko). So far it's a lot of frothy casual fun, and I definitely recommend it to anyone who liked Storm Lover and wants some more.
January 17th, 2012
Before looking at specific games, I thought I would try to find a few trends in otome games in the past year. First, I took a look at the covers for otome magazines: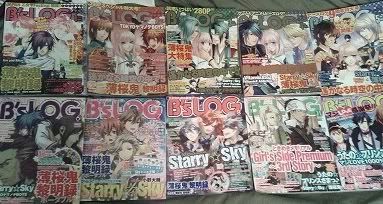 B's Log
and

Girl's Style.
I'm missing a couple of each, you can see the backnumbers for B's Log on their website, I'm missing an UtaPuri and a Hakuouki cover. The two Girl's Style I'm missing are a Hakuouki and an Arcana Famiglia.
I actually thought Hakuouki took up a sizable amount of cover space, and it does, but really, not much more than Starry Sky or Uta no Prince-sama. Oh wait, now I've figured it out, it was 2010 that Hakuouki took all the cover space (half the B's Logs sold in 2010 had Hakuouki covers). And Harutoki 5 took 4 covers, wow!
Now if we take a look at the popularity polls inside, an interesting shift took place. In the Jan 2010 issue of B's Log (sold in December), the top otome characters looked like this:
10. Mikoshiba Kyousuke (Storm Lover)
9. Shitara Seiji (TokimemoGS 3)
8. Sakurai Kouichi (TokimemoGS 3)
7. Sakurai Ruka (TokimemoGS 3)
6. Kazama Chikage (Hakuouki)
5. Toudou Heisuke (Hakuouki)
4. Harada Sanosuke (Hakuouki)
3. Hijikata Toshizou (Hakuouki)
2. Okita Souji (Hakuouki)
1. Saitou Hajime (Hakuouki)
Take a look at that, willya? Aksys chose well
But all the same, it was a little…monotonous. (By the way, if you had to pick your fave guy from Hakuouki who would it be? I've only played Hijikata, Saitou, and Chikage, but Chikage was my favourite of those. Saitou was also great. Hijikata I liked, but it had very little romance. Aaaanyways)
In the July issue, Hakuouki still had the top 5 spots, though poor Heisuke had fallen to 8th position.
Now here's the top 10 from this year's Jan issue:
10. Otoya (UtaPuri)
9. Sanosuke (Hakuouki)
8. Masato (UtaPuri)
7. Kazuki (Starry Sky)
6. Ryuutarou (Starry Sky)
5. Azusa (Starry Sky)
4. Souji (Hakuouki)
3. Tokiya (UtaPuri)
2. Shou (UtaPuri)
1. Saitou Hajime (Hakuouki)
Saitou is still on top, but the rest are much more spread out. The numbers are also much more even. But considering Hakuouki has been dominating for more than a year, that's pretty good (seriously, the original game came out on the PS2 in Sep 2008. 2008!!!)
On a side note, the top three characters in Boys Love last year were Akira (Togainu no Chi), Giancarlo (Lucky Dog) and Gunji (Lucky Dog). This year they're Giancarlo, Akira, and Bernard (Lucky Dog).
Now looking at the games released, I checked last year's post – 20 originals and 10/11 fandisks last year. This year combining consoles and PC games there were 30 original games and 11 fandisks, and a bunch of adaptations and ports. So the commercial otome release list grew by almost a third this year, wow! That makes me really happy.
However, I can't help but feel like there was less variety in gameplay this year. Last year Tokimemo GS3, WagaHana, Steelwood, Love Root Zero (with all its problems), UtaPuri, and Storm Lover all had significant gameplay. This year there was Mother Goose (with all ITS problems), and Harutoki 5, FabStyle, and I think Miss Princess? I'm hoping that some of the ones I didn't get to like Arcana Famiglia also had some, but it seems like a lot less and I can't think that's a good thing. Maybe that trend will reverse in 2012.
Now all that's left is to JUDGE (my favourite part). I'll probably do that in a couple weeks, because honestly I'm still working on a bunch of new releases! I feel like I should play Arcana Famiglia before I decide, does anyone recommend it?
January 15th, 2012
This is late, but here's the list of 2011 otome games as listed in one of the magazines. I'm going to first post these, then tomorrow I'll compare to what last year's list looks like. Off the top of my head I'm going to guess that there were more PSP games this year, especially original ones, and more PSP adaptations. I'm also going to guess that this year was more about visual novels than games with RPG/SIM gameplay.
Arco Baleno Portable PSP
Death Connection Portable PSP
Hakuouki Zuisouroku Portable PSP
Moujuutsukai to Oujisama Snow Bride PS2
Harutoki 5 PSP
Vit XtoZ PSP
HanaOni PSP
CLover no Kuni no Alice PSP
Kimi ni Todoke
Hakuouki Yuugiroku DS
Are you Alice
Garnet Cradle Portable PSP
SYK fd Portable PSP
Asaki Yumemishi PSP
Starry Sky Winter Portable PSP
Hiiro no Kakera Aizouban PS3
Iza Shutsujin PSP
Shin Hiiro no Kakera 2 DS
Sangoku Senrenki PS2
Kaerutaubake fd  PSP
Xechs FD PS2
Mother Goose PSP
Beastmaster Portable PSP
Musketeer PSP
Hiiro no Kakera 4 PSP
Nise no Chigiri fd PSP
Shinigami to Shoujo PSP
Heart no Kuni no Alice Anniversary PSP
Hakouki Reimeiroku  PSP
Storm Lover Natsukoi PSP
UtaPuri Repeat PSP
Amnesia PSP
Bunmei Kaika Aoiza PSP
Hiiro no Kakera 3 DS
Crimson Empire PSP
Gekka Ryouran Romance PSP
Wand of Fortune II PSP
Okashina Shima no Peter Pan PSP
Clock Zero fd PS2
Kaminaru Kimi to
Arcana Famiglia PSP
Joker no Kuni no Alice PSP
Miss Princess DS
Angelique Maren no Rokukishi PSP
Strobe Mania PSP
Mahoutsukai to Goshujinsama PSP
Hakuouki 3D 3DS
FabStyle 3DS
Uta puri music PSP
Beyond the future PSP and PS3
Omocha Bako no kuni no Alice
Hanayaka Nari Waga Ichizoku FD PSP
I see 20 new games, and 9 new fandisks. The rest are ports/adaptations.
PC games
Diary
Starry Sky After Summer
Kago no Naka no Alishous
Tsubasa no Oka no Hime R18
TYB (3 games)
Red Riding Hood R18
Chou no Doku R18
Miyako fd
Grimm Director's Cut
Hotokensaa
Noise
Dare ni demo FD
Starry Sky After Autumn
In PC games they're all new except Grimm.
January 12th, 2012
Some promotional vids for games coming out soon:
Kannou Mukashibanashi, the sexy fairytale game. I dunno whether I'll get this right away or not, I'm not sure if it will be good or a flop like Mother Goose.
Renai Banchou 2 – Midnight Lesson
I'm pretty sure I'm getting this. I was interested in the ura "reverse" banchou in the first one, and they've added Host and Yankee Banchou (Morikawa Toshiyuki and Yoshino Hiroyuki) as well!
Midnight Bells and Cinderella ~Halloween Wedding~
Looks like fun so I'm getting this…but maybe not at first (I was just thinking of starting up Peter Pan again).
Tokyo Yamanote Boys Sweet Jelly Beans
At first I thought this was a fandisk, then I thought it was just all three original games together. Neither of those is quite right – it's a fandisk where the guys group up differently, and you can get the murderer (Really?! Really.) Not to be confused with the three fandisks coming out later where there's more one-on-one time with each guy.
Beyond the Future – Fix the Time Arrows
This is what I'm playing now (it's handy to have it for PS3, and really nice on the big screen), but ouch! this PV is a bit cheesy, mostly in the part where they introduce the seiyuu.
And here's a big one, Tokimemo GS 3! First an example of the Live2D gameplay:
And someone translated the OP for the DS game! It's in bubbles. It's over a year old so you may have found it, but just in case:
And now for something slightly different, Sengoku Basara:
This series of games (the vid is from the anime) is SOO popular, I feel like I should pay attention to it. Especially in doujinshi. There is SO MUCH Sengoku Basara doujinshi. And the games are always in B's Log and Girls Style as well, so it's obviously popular with the female market.
Anyways, that's my disjointed post for midweek, on Friday I may have a review on Beyond the Future, or perhaps some musings on 2011/2012…haven't decided yet!
January 9th, 2012
Sangoku Rensenki was originally a PC game, the first ever put out by publisher Daisy². When I first saw some pics for it, I thought it looked cute, but figured it would be one of those quiet releases that mostly get ignored, especially after it was delayed a couple of times.
To my surprise and joy, not only was it released successfully, but it steadily got really good reviews, despite still getting minimal press, and was consistently on the list for most-wanted to be adapted for consoles. It finally was adapted for the PS2, and will soon be released for the PSP as well. I wasn't able to get a copy until I went to Japan in October, and I'm finally playing it now – I thought I needed to have a good chunk of time to get into it, and I was right.
What's it about? Well, it's a time travel story, normal high school girl gets transported to chaotic era with lots of attractive men. Sounds pretty familiar. The specifics are that Hana, the heroine, is working on a history assignment when an old book about the Three Kingdoms (ancient China) sucks her back in time, I think to AD207. She gets picked up by one warlord, Gentoku, but throughout the game is kidnapped by Moutoku, the current most successful warlord, stays with the last major warlord Chuubou, and also goes even further back in time for a bit and sees the origin of the current situation.
The first time through, you can't "win" anybody, Hana has to go through the story trying to figure out why she's there and what she wants to do. Unlike many other time-travel/AU stories, Hana isn't a legendary priestess and her arrival wasn't foretold; most people don't even know that she's from another world, just that she's foreign. When she first arrives, a voice tells her to go meet Gentoku and tell him that she's an apprentice of Koumei, a scholar and strategist. That's how she gets treated as a guest. The book she read comes through with her, and when she tries to read about what's going to happen, it's blank. That is, until she figures out what she wants to happen, and then the book will show how that could work.
I think the game is excellent in a few ways that aren't common – first, Hana not being expected or treated as a "savior" until she proves herself (by using the book to figure out strategies). Even then, she's just respected as an advisor, she's not expected to do any magic or anything. Second, I found that her reactions are very relatable – the first time she's in the field of war and witnesses people dying, partially due to her own strategy, she's shocked and almost can't handle it. Afterwards, it takes her a long time to reconcile what she's doing and come to grips with the deaths that war causes, which is totally realistic for a young teenager who's never seen violence up close and is totally unused to war. She continues to struggle throughout the game with moral questions like whether it's right for her to help with strategies that might cause large casualties for the other side. It's also really nice how the warlords all have their own moral code – for example, Gentoku is very strict, and will never take existing land from a present lord or heir (this agrees with the Romance of the Three Kingdoms apparently). Hana has to try and stop the war while dealing with everyone's competing principles, which I thought was much more realistic than many other stories where once someone is convinced, they do whatever the hero/heroine suggests.
Also, the romances so far have been really light-handed but good, and in Gentoku's route, pretty wrenching. It's not really angsty but the situation was just…argh, hard to describe except that sometimes I really felt like skipping to the end because I couldn't take it, but it was totally worth it in the end. Miki Shinichirou sounded more agonized than I remember hearing him for a long time, and it was awesome.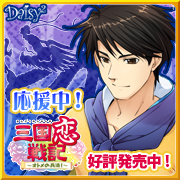 Gentoku
There's also a bonus that I adore during the credits of each route – it shows extra scenes around important storylines where you get to see the guy's side of it. It's really great, and I'm glad that it's shown after everything. There are even CGs just for the credits!
While playing through, I kept trying to find exactly what it was that made this game so good (because it's good, it's very good). What makes me want to play through again and again, getting different routes, even though I skip through a bunch of the strategy when they talk about tactics and generals and old Chinese place names? I think in the end, it's the characterization, of Hana and everyone else. Not only do you have interesting romanceable characters, but lots of minor characters get enough details that they're sympathetic as people and not just cliches or cardboard placeholders. When I first went back in time the second time and realized it was before the main story (so none of the romanceable characters are around), I was annoyed because I thought it was just a distraction from the main story. But the people you meet there are important in some of the routes, and they're all memorable, and honestly it was really cool how the writers established how different the atmosphere was in the area just 10-20 years before the main story because of the different political situation.
SO, to make a long story short, I hugely recommend Sangoku Rensenki! Now I've gotta go, I have a warlord to romance…