Archive for April, 2013
April 23rd, 2013
Some new games announced for May!
Hakuouki Sweet School Life! This is based on a very short extra from the original Hakuouki (think it was the fandisk) where the setting is AU, in a regular high school. They're obviously not using Kazuki Yone for the art, but it seems like they're re-using as much as possible. Details are still unclear as to what system it will be for.
Jewelic Nightmare, from Otomate – it sounds a little similar to Trick or Alice, where the heroine moves between two worlds and meets the same guys, but with different personalities and positions in each. The art  looks really nice!
Snow Bound Land, also from Otomate, based on the Snow Queen fairytale. The heroine Gelda (reminds me of Beastmaster and Prince) travels through five worlds with four companions trying to get to the White World in order to remove a curse.
Uta no Prince-sama Music 2 – coming Sep 5
Kamigami no Asobi is coming Oct 24!
Dot Kareshi – We're 8bit Lovers! is set to come out for the PC (and CDs) starting Jul 24.
Some more info on Arcana Famiglia 2 – it seems like there's a special reason Elmo is grown up so fast,
The PSP game for Meiji Tokyo Renka is scheduled for Sep 26!
Hanasaku Manimani is coming out on the PS3 as well as the PSP! Don't know if I knew that before.
Quinrose is remaking Heart no Kuni no Alice (Alice in the Country of Hearts) with new art from Fujimaru Mamenosuke (thanks Hinano!) (same artist as Diamond). It will now be a VN-only style. Normally I would be disappointed (I love gameplay in my otoge), but the original was really annoying to play – I've still only finished Blood's route. Maybe with this game I'll finally understand all the Ace love ? (Nahhh)
Anything you want more info on? I'm working on an O*G*A post since that's coming out soon, but there's also:
Norn9, coming out May 23
0ji no Cinderella, May 23
Urakata Hakuouki, May 30
Tiny x Machine Gun, May 30!
Also, a new English release from Aksys! They're adapting the 3DS version of Hakuoki. Thanks to @Ayreesa for the news! Don't forget, they also picked up Bakudan Handan (Sweet Fuse in English) and it's coming out this summer!
April 12th, 2013
I've finished all of Princess Arthur! Not the bad ends though, I might do those when I have extra time sometime, but I don't like doing them too close to the true ends.
Anyways, I really liked it. It takes a while to get going, and I enjoyed the playthroughs better when I could skip all the common stuff, but that's pretty standard. I played Gawain's route first (Taniyama Kishou, who could resist?), but if I played it again, I think I'd go something like: Mordred, Galahad, Tristan,  Lancelot, Gawain, and Merlin.
The game starts with Aru, who's the daughter of a retired knight, practicing swordsmanship with someone – her father teaches people how to swordfight. Something is mentioned about her brother Kei, who's a Knight of the Round Table, who hasn't been around much lately. Aru feels bad because he's been acting weird ever since he fought with her once and lost. At the castle there's an event going on to decide the next king, since the last one, Uther, died a month (or so) ago. Aru goes up to the castle to watch.
Of course she gets lost, and ends up 1) being hit on by some weird dude in a purple robe open to his bellybutton (Merlin) and directed to the right place by a handsome knight (Lancelot.) When she finally reaches the courtyard, she sees Kei trying to pull the holy sword out of a big stone and failing in front of a big crowd. However, he won't give up, and Aru gets upset and tries to convince him to stop. Somehow Aru's hands end up on his, and he's able to pull the sword out. Kei holds the sword up triumphantly and announces that he's the king, but someone (Merlin IIRC) asks him to do it again. Once again he can't do it until Aru helps him. Then Aru pulls the sword out all by herself, and amid the crowd's astonishment, Merlin announces that the new king has been found, and it's Aru. Kei leaves in a huff, and Aru's father saw what happened as well, and though Aru tries to deny it, he accepts her fate and leaves her to Merlin's care.
It takes Aru a while to accept that she is the next king, and that she has to work hard to be accepted by her subjects and by other countries. There's also at least one person trying to intimidate and/or assassinate her, as she finds a poisonous snake in her bed one evening. Some people, such as Uther's sister Morgos, are openly scornful of her, and soon there's war brewing as other kingdoms don't accept her as king. ONe of the most important points of the intro is when Aru has to decide whether she's going to war with the knights – if you say you'll wait for them, you get a bad end. If you go, you win the battle but Aru kills someone, her best friend's fiance dies, and Aru has to learn how to deal with the emotional weight of war.
Once she's recovered from that, there's a ball held to celebrate. Depending on which character you have the highest affection with, around here (choosing who will escort you to the ball) will decide on the route you go into and change the rest of the plot. 
Mordred (CV: Hosoya Yoshimasa):  His story has little to do with the overarching plot of being accepted as king, but clears up a couple of incidents. I love his voice actor (any Tenipuri Shitenhouji fans out there?), and he's not in many games. Hopefully this will change soon!  His story was pretty bittersweet and I think his character is one of the most realistic and complex – he's flawed and knows it, but can't get past the problems his upbringing left him with until the very end. I also think his art, the CGs and tachie, are the most consistent, and his design is one of the most attractive.
Galahad(CV: Okamoto Nobuhiko): I thought in the intro that I wouldn't like him much,but he was SUCH a classic tsundere and you don't see them often anymore (now they're all Do-S jerks), that I really enjoyed his route. He has a lot of really cute moments. And his story is pretty touching as well, he's not used to feeling much so he's awful at expressing how he feels. When he can't hold it in anymore, it's pretty intense and awesome. He's also the youngest of the knights (younger than Aru even) so he's a bit immature and that's written well, including a bit of a complex about being young (and short).
Tristan's (CV: Koyasu Takehito) route annoyed me, as Aru had to be not only naive and trusting, but also throw away her developing friendships with the other knights before Tristan even showed any romantic interest in her. To get his happy end Aru has to lie to all the knights, flat out deny their help, and pretty much become an outcast of her court by the end. And though I enjoyed all the scenes with Percival and Merlin to make up for Tristan being absent for 75% of the story, it didn't really make for a good romance. They actually had to add vignettes into each chapter to go through his backstory etc. because it's not explained in the story until the very end. I also really didn't like Aru in this route. Tristan calls her actions stupid and she often agrees with him, but she just cant seem to help herself. And to top everything off, at one point Aru wears a disguise that's even worse than the 'ball gown' worn before. This time its for a good reason, but the cg of it looks…like its from a galge. Did they really have to show it from a crotch up angle?  And that's obviously the point at which Tristan becomes interested in Aru as a woman, which makes me think of him as an old lech. But I had to get through it to get to Merlin's route, so I used auto a lot and surfed the net.
Lancelot( CV: Ono Yuuki): Probably the most typical 'shoujo' route. I put him near the middle because while I really liked him, and there wasn't as much Guinevere drama as I was afraid of, his route is not that sweet.  He's always polite and pretty much the 'parfit gentil knight', in addition to being the strongest of all the KotRT. Most of the emotional angst comes from Aru not knowing if he actually cares for her or whether he's just doing his duty. Normally I would be annoyed by this, but he has a really really good reason to hide any romantic feelings. It was possibly the most dramatic at the very end, in a Sailor Moon kind of way. I don't want to put spoilers in so you can judge for yourself if you agree, but I thought his was the best story in terms of integrating the character's plot with Aru's plot.
And I would put Gawain (CV: Taniyama Kishou (for some reason I mixed up his name with Tachibana Shinnosuke, why am I doing that??) last before Merlin, because his route is just really sweet – he's already past the tsun stage by the time the intro's over. But because he's a not a ladykiller type (I affectionately call him a meathead), he's awkwardly endearing most of the time as he unsubtly tries to spend time with Aru and impress her. The romance gets resolved before the climax, so there's not as much tension, but after Tristan who has almost no romance, I think it works. Now if I could just figure out what thing he wears on his head is…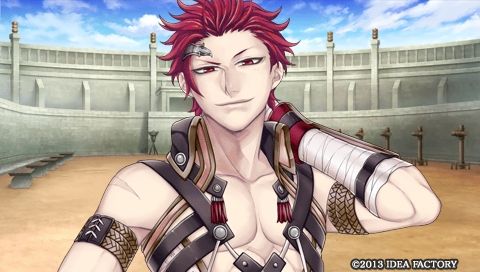 Gawain smirking (he's a big softie really)
And last is Merlin (CV: Okiayu Ryoutarou) – you have to get an ending with each character before his route opens up. This is where you see the resolution of all the storylines (though it kind of contradicts a couple other plotlines, but oh well). Merlin is a total lech, flirting  with Aru and making suggestive remarks, until she starts to take him seriously.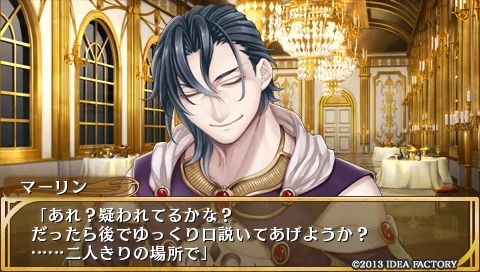 "Hmm, do you doubt me? I'll have to take my time flirting with you later…when we're alone somewhere."
Then he backs off and starts treating her like a child (since he's actually much older than he looks, I don't think this is much of a spoiler).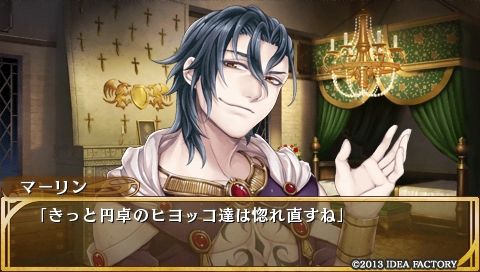 "I'm sure all the young knights of the round table fell for you all over again."
This route is fun in that it's a reversal of the usual pattern, with Arthur pursuing Merlin and him trying to brush her off lightly, and then trying to find other ways of discouraging her like treating her as a child and trying to scare her off. He goes back and forth between acting like he doesn't care and showing that he does, but it's obvious enough that I enjoyed it rather than was frustrated with it. Also, the Lady of the Lake, Nimue, plays a big role in this route and is pretty awesome. She sees right away that Aru loves Merlin and advises Aru, and she explains Merlin's inconsistency as it happens as well. The climax leaves a little to be desired, as you don't really get Merlin to admit how he feels until it's all over, and in my biased opinion his confession could use some more passion, but looking at the route as a whole there are quite a few romantic moments.
So I really liked Princess Arthur, and I'm glad I got the limited edition. I'd say the story and characters were really good, but the climax of the plot wasn't as dramatic as it could be in most cases. There was a lot going on (in addition to each of the knights' problems), like Aru's brother Kei's subplot, Morgos and Medorauto, rebellions, a shadowy mercenary force, and a couple other things. The character routes weren't always  integrated well with the larger 'being accepted as king' plot, though they did try – nothing felt tacked on at the end, there was foreshadowing all the time, it just seemed weird that several of the same enemy characters would have completely different schemes, alliances and sometimes motives depending on which character route you were on. On the other hand, if they didn't change things up, the same plotline would have to be recycled every time, just dropping a different hero into a blank slot.
Other stuff – I wasn't sure about the art at first, as it's not as 'pretty' as a lot of otome games, but in some ways I liked it even better – the characters look like real people, and the guys definitely look like they could be real knights (i.e. they have muscles! they wear armour!). Though there were some odd costume designs, I liked most of them barring Aru's 'trying too hard to look sexy' ball'gown'.  Of course the voices were great
The music is really good, especially the opening theme – it really amps up the suspense and feeling of epicness during the 'king' scenes.
I feel like there's a lot that could be done with the other characters that were only in subplots or only had minor roles – Kei, Aru's friend Elaine, Medorauto, Bowls (Bolls?), and Percival. I'd love to see bigger storylines of theirs in a fandisk. I really hope Princess Arthur does get a fandisk, as I'm not sure how well it did for sales.