Archive for the 'Video Games' Category
April 23rd, 2013
Some new games announced for May!
Hakuouki Sweet School Life! This is based on a very short extra from the original Hakuouki (think it was the fandisk) where the setting is AU, in a regular high school. They're obviously not using Kazuki Yone for the art, but it seems like they're re-using as much as possible. Details are still unclear as to what system it will be for.
Jewelic Nightmare, from Otomate – it sounds a little similar to Trick or Alice, where the heroine moves between two worlds and meets the same guys, but with different personalities and positions in each. The art  looks really nice!
Snow Bound Land, also from Otomate, based on the Snow Queen fairytale. The heroine Gelda (reminds me of Beastmaster and Prince) travels through five worlds with four companions trying to get to the White World in order to remove a curse.
Uta no Prince-sama Music 2 – coming Sep 5
Kamigami no Asobi is coming Oct 24!
Dot Kareshi – We're 8bit Lovers! is set to come out for the PC (and CDs) starting Jul 24.
Some more info on Arcana Famiglia 2 – it seems like there's a special reason Elmo is grown up so fast,
The PSP game for Meiji Tokyo Renka is scheduled for Sep 26!
Hanasaku Manimani is coming out on the PS3 as well as the PSP! Don't know if I knew that before.
Quinrose is remaking Heart no Kuni no Alice (Alice in the Country of Hearts) with new art from Fujimaru Mamenosuke (thanks Hinano!) (same artist as Diamond). It will now be a VN-only style. Normally I would be disappointed (I love gameplay in my otoge), but the original was really annoying to play – I've still only finished Blood's route. Maybe with this game I'll finally understand all the Ace love ? (Nahhh)
Anything you want more info on? I'm working on an O*G*A post since that's coming out soon, but there's also:
Norn9, coming out May 23
0ji no Cinderella, May 23
Urakata Hakuouki, May 30
Tiny x Machine Gun, May 30!
Also, a new English release from Aksys! They're adapting the 3DS version of Hakuoki. Thanks to @Ayreesa for the news! Don't forget, they also picked up Bakudan Handan (Sweet Fuse in English) and it's coming out this summer!
April 12th, 2013
I've finished all of Princess Arthur! Not the bad ends though, I might do those when I have extra time sometime, but I don't like doing them too close to the true ends.
Anyways, I really liked it. It takes a while to get going, and I enjoyed the playthroughs better when I could skip all the common stuff, but that's pretty standard. I played Gawain's route first (Taniyama Kishou, who could resist?), but if I played it again, I think I'd go something like: Mordred, Galahad, Tristan,  Lancelot, Gawain, and Merlin.
The game starts with Aru, who's the daughter of a retired knight, practicing swordsmanship with someone – her father teaches people how to swordfight. Something is mentioned about her brother Kei, who's a Knight of the Round Table, who hasn't been around much lately. Aru feels bad because he's been acting weird ever since he fought with her once and lost. At the castle there's an event going on to decide the next king, since the last one, Uther, died a month (or so) ago. Aru goes up to the castle to watch.
Of course she gets lost, and ends up 1) being hit on by some weird dude in a purple robe open to his bellybutton (Merlin) and directed to the right place by a handsome knight (Lancelot.) When she finally reaches the courtyard, she sees Kei trying to pull the holy sword out of a big stone and failing in front of a big crowd. However, he won't give up, and Aru gets upset and tries to convince him to stop. Somehow Aru's hands end up on his, and he's able to pull the sword out. Kei holds the sword up triumphantly and announces that he's the king, but someone (Merlin IIRC) asks him to do it again. Once again he can't do it until Aru helps him. Then Aru pulls the sword out all by herself, and amid the crowd's astonishment, Merlin announces that the new king has been found, and it's Aru. Kei leaves in a huff, and Aru's father saw what happened as well, and though Aru tries to deny it, he accepts her fate and leaves her to Merlin's care.
It takes Aru a while to accept that she is the next king, and that she has to work hard to be accepted by her subjects and by other countries. There's also at least one person trying to intimidate and/or assassinate her, as she finds a poisonous snake in her bed one evening. Some people, such as Uther's sister Morgos, are openly scornful of her, and soon there's war brewing as other kingdoms don't accept her as king. ONe of the most important points of the intro is when Aru has to decide whether she's going to war with the knights – if you say you'll wait for them, you get a bad end. If you go, you win the battle but Aru kills someone, her best friend's fiance dies, and Aru has to learn how to deal with the emotional weight of war.
Once she's recovered from that, there's a ball held to celebrate. Depending on which character you have the highest affection with, around here (choosing who will escort you to the ball) will decide on the route you go into and change the rest of the plot. 
Mordred (CV: Hosoya Yoshimasa):  His story has little to do with the overarching plot of being accepted as king, but clears up a couple of incidents. I love his voice actor (any Tenipuri Shitenhouji fans out there?), and he's not in many games. Hopefully this will change soon!  His story was pretty bittersweet and I think his character is one of the most realistic and complex – he's flawed and knows it, but can't get past the problems his upbringing left him with until the very end. I also think his art, the CGs and tachie, are the most consistent, and his design is one of the most attractive.
Galahad(CV: Okamoto Nobuhiko): I thought in the intro that I wouldn't like him much,but he was SUCH a classic tsundere and you don't see them often anymore (now they're all Do-S jerks), that I really enjoyed his route. He has a lot of really cute moments. And his story is pretty touching as well, he's not used to feeling much so he's awful at expressing how he feels. When he can't hold it in anymore, it's pretty intense and awesome. He's also the youngest of the knights (younger than Aru even) so he's a bit immature and that's written well, including a bit of a complex about being young (and short).
Tristan's (CV: Koyasu Takehito) route annoyed me, as Aru had to be not only naive and trusting, but also throw away her developing friendships with the other knights before Tristan even showed any romantic interest in her. To get his happy end Aru has to lie to all the knights, flat out deny their help, and pretty much become an outcast of her court by the end. And though I enjoyed all the scenes with Percival and Merlin to make up for Tristan being absent for 75% of the story, it didn't really make for a good romance. They actually had to add vignettes into each chapter to go through his backstory etc. because it's not explained in the story until the very end. I also really didn't like Aru in this route. Tristan calls her actions stupid and she often agrees with him, but she just cant seem to help herself. And to top everything off, at one point Aru wears a disguise that's even worse than the 'ball gown' worn before. This time its for a good reason, but the cg of it looks…like its from a galge. Did they really have to show it from a crotch up angle?  And that's obviously the point at which Tristan becomes interested in Aru as a woman, which makes me think of him as an old lech. But I had to get through it to get to Merlin's route, so I used auto a lot and surfed the net.
Lancelot( CV: Ono Yuuki): Probably the most typical 'shoujo' route. I put him near the middle because while I really liked him, and there wasn't as much Guinevere drama as I was afraid of, his route is not that sweet.  He's always polite and pretty much the 'parfit gentil knight', in addition to being the strongest of all the KotRT. Most of the emotional angst comes from Aru not knowing if he actually cares for her or whether he's just doing his duty. Normally I would be annoyed by this, but he has a really really good reason to hide any romantic feelings. It was possibly the most dramatic at the very end, in a Sailor Moon kind of way. I don't want to put spoilers in so you can judge for yourself if you agree, but I thought his was the best story in terms of integrating the character's plot with Aru's plot.
And I would put Gawain (CV: Taniyama Kishou (for some reason I mixed up his name with Tachibana Shinnosuke, why am I doing that??) last before Merlin, because his route is just really sweet – he's already past the tsun stage by the time the intro's over. But because he's a not a ladykiller type (I affectionately call him a meathead), he's awkwardly endearing most of the time as he unsubtly tries to spend time with Aru and impress her. The romance gets resolved before the climax, so there's not as much tension, but after Tristan who has almost no romance, I think it works. Now if I could just figure out what thing he wears on his head is…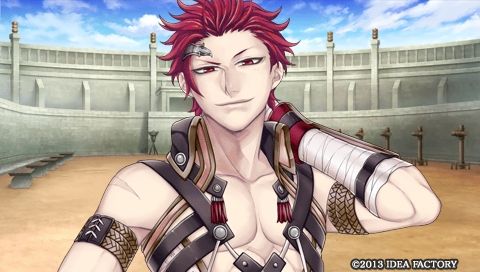 Gawain smirking (he's a big softie really)
And last is Merlin (CV: Okiayu Ryoutarou) – you have to get an ending with each character before his route opens up. This is where you see the resolution of all the storylines (though it kind of contradicts a couple other plotlines, but oh well). Merlin is a total lech, flirting  with Aru and making suggestive remarks, until she starts to take him seriously.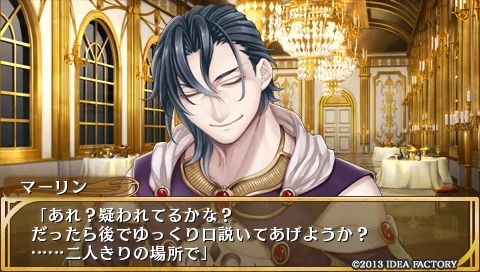 "Hmm, do you doubt me? I'll have to take my time flirting with you later…when we're alone somewhere."
Then he backs off and starts treating her like a child (since he's actually much older than he looks, I don't think this is much of a spoiler).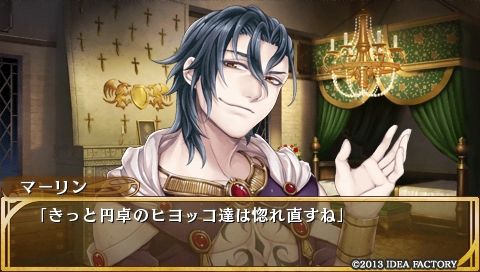 "I'm sure all the young knights of the round table fell for you all over again."
This route is fun in that it's a reversal of the usual pattern, with Arthur pursuing Merlin and him trying to brush her off lightly, and then trying to find other ways of discouraging her like treating her as a child and trying to scare her off. He goes back and forth between acting like he doesn't care and showing that he does, but it's obvious enough that I enjoyed it rather than was frustrated with it. Also, the Lady of the Lake, Nimue, plays a big role in this route and is pretty awesome. She sees right away that Aru loves Merlin and advises Aru, and she explains Merlin's inconsistency as it happens as well. The climax leaves a little to be desired, as you don't really get Merlin to admit how he feels until it's all over, and in my biased opinion his confession could use some more passion, but looking at the route as a whole there are quite a few romantic moments.
So I really liked Princess Arthur, and I'm glad I got the limited edition. I'd say the story and characters were really good, but the climax of the plot wasn't as dramatic as it could be in most cases. There was a lot going on (in addition to each of the knights' problems), like Aru's brother Kei's subplot, Morgos and Medorauto, rebellions, a shadowy mercenary force, and a couple other things. The character routes weren't always  integrated well with the larger 'being accepted as king' plot, though they did try – nothing felt tacked on at the end, there was foreshadowing all the time, it just seemed weird that several of the same enemy characters would have completely different schemes, alliances and sometimes motives depending on which character route you were on. On the other hand, if they didn't change things up, the same plotline would have to be recycled every time, just dropping a different hero into a blank slot.
Other stuff – I wasn't sure about the art at first, as it's not as 'pretty' as a lot of otome games, but in some ways I liked it even better – the characters look like real people, and the guys definitely look like they could be real knights (i.e. they have muscles! they wear armour!). Though there were some odd costume designs, I liked most of them barring Aru's 'trying too hard to look sexy' ball'gown'.  Of course the voices were great
The music is really good, especially the opening theme – it really amps up the suspense and feeling of epicness during the 'king' scenes.
I feel like there's a lot that could be done with the other characters that were only in subplots or only had minor roles – Kei, Aru's friend Elaine, Medorauto, Bowls (Bolls?), and Percival. I'd love to see bigger storylines of theirs in a fandisk. I really hope Princess Arthur does get a fandisk, as I'm not sure how well it did for sales.
March 26th, 2013
The biggest news is Quinrose's new title, Romeo vs Juliet. It's set in Verona, where Juliet wants to become a vampire hunter  because her parents were killed by vampires when she was small. Romeo and his friend Mercutio are vampires, but they keep saving Juliet from vampire attacks (from the description, she doesn't seem that great at vampire hunting…). You can choose between the vampire route with Romeo and Mercutio, or the hunter route, with your mentor Lawrence Groves and your fiance Paris Verona.  There's also the duke of Verona Eskaras Verona, a 'good' vampire, Benvolio Montague, a doctor William Shakespeare, and Tybold Capulet, Juliet's stepbrother.
The mobile game Meiji Tokyo Renka is being made into a PSP game by Broccoli.
Beast Harem is finally being released for real!? At least, it has a 2-page spread in B's Log with chara designs and CGs (without backgrounds). It's supposed to come out May 23.
New characters for Solomon's Ring Earth. The seiyuu are Iguchi Yuuichi (Berito), Ookawa Tohru (Amon), and Hagi Michihiko (Relage).
not too much else at least in the mags.
March 22nd, 2013
I don't know how many people know this, but I've been working on something big, and it was finally announced a few weeks ago – some friends and I are starting up an online magazine, Sparkler, and our company name is Chromatic Press. This has been in the works for a long time, and I'm really excited we can finally talk about it. Sparkler's first issue will be this summer, and I'm really busy with making sure it goes well and we have a great lineup of stories to publish, so I haven't been updating as much as I'd like to. I'll still be around here though, posting otome game news and some reviews and previews.
Sparkler (twitterid:@sparklermonthly) will include illustrated prose stories, comics, and audio dramas, all serialized and targeted to young women.  Our first official 'appearance' will be at the Toronto Comic Arts Festival in May, and if you're around, please come visit, it's free!
The first series we can confirm is the continuation and completion of the original English-language manga, Off*Beat, by Jen Lee Quick. This series was originally published by Tokyopop, but only two out of three volumes were published before Tokyopop closed its English-language publishing arm. We really wanted this story to be completed, and happily we were able to get the rights for the first two volumes, and are going to serialize the last volume in Sparkler!
More announcements to come!
March 1st, 2013
I didn't get B's Log till today, so this is probably late, but hey, better late than yada yada.

Diabolik Lovers has a bunch of announcements:

Fandisk!! In 2013 apparently. It will include the new characters, the Mukami brothers, who are rivals to the current guys (whose family name I can't remember how to spell)
TV anime coming (we heard about this before), no date in the magazine.
New series of drama CDs – More, Blood – coming monthly starting April for 10 months straight
Character songs released starting in June
Monthly radio show on NicoNico starting April, hosted by Midorikawa Hikaru (Ayato)

Oh, the Mukami brothers are: Ruki (CV: Sakurai Takahiro), Kou (CV: Kimura Ryohei), Yuuma (CV: Suzuki Tatsuhisa), and Azusa (CV: Kishio Daisuke). Pic on my tumblr.

Seishun Hajimemashita! is going to come on 2 discs, 3 if you get the first edition! Cool.
Amnesia Crowd will have minigames! Also, if you can order the DX pack from Enterbrain, it comes with a tapestry (about 20×28 inches)
In Storm Lover 2nd, your choices can change the heroine's character into either a '肉食系' (meat-eater) or '草食系' (vegetarian) – kind of like having a dominant or submissive personality. They show examples for each guy, and I pretty much preferred the 肉食系 reactions for them all, mwahaha. Also, Takashi is in this game as owning a cafe.
DID YOU KNOW that apparently Geten no Hana will be full-voice?? I didn't, and it's not in B's Log – the source is apparently Neoromance's e-mail newsletter (I found out from @Mai_Shinozawa, thank you!). I still haven't seen it announced anywhere, but I'm going to buy the game if it's true.
Another Alice in the Land of Diamonds – this one is called Wonderful Mirror World, and the routes are different – buy this one if you want to get Ace, Nightmare, Boris, Grey, or Julius.
Fandisk for Hiiro no Kakera 4(5) Shirahana no Ori – it's called Poem (or Song) of Four Seasons
Hanasaku Manimani will be for the PS3 as well as the PSP!
Shiratsuyu no Aya will be released on June 27
In magazine news, B's Log is starting a bimonthly special edition called B's Log Primo in April, with all original content such as special illustrations, short stories, and interviews – of course all relating to otome games.
And in cell phone news, I got a Nexus 4 and gee, there seem to be a lot more otome-ish apps available, even if they're still in Japanese. I was able to download all the Soine Kareshi (in English it's Sleepy-Time Boyfriend), as well as Seifuku no Oji-sama, which at first launch seems really nice! I'm thinking of doing a cell phone game roundup, since there are now a bunch of apps/games that I think otoge fans would be interested in, and even some with English translations.
And I scanned some pics of Arcana Famiglia 2 from Girl's Style, they're not great but they show the difference in chara designs.

Elmo!

Dante! (avec cheveux)

And finally, Nova. (Now I remember why I didn't post these, I took them with a camera and they're ENORMOUS.)
Next post will be about Chromatic Press!
February 18th, 2013
First, the big news that I totally missed because I only read Japanese magazines – Aksys is translating Bakudan Handan!! Yes, the story about the crazy pig terrorist taking hostages in an amusement park. It was fun.
Now from Cool-B and Girl's Style:
New R18 game! It's called Sanzen Sekai Yuugi, and there's an English subtitle, MultiUniverse Myself – the first two words could be a translation but not really the last one. It's from the new brand girls*dynamics, and is described as a "heroic space opera". The writers are from Taishou (?) Mobius Line and Koezaru wa Kurenai Hana. The concept is of a bounty hunter heroine a hundred years in the future, who has to fight to save her parallel self in another world.
Arcana Famiglia 2!! Not much info, just big splash pages of the guys, and you can tell it's been at least a couple years – Nova has grown up a lot (10 times hotter), not to mention ELMO! And Dante has hair (I remember when I first saw the flashbacks and was like, "Comfort, WHY did you take Dante's hair away?" He looks 100 times hotter. I don't know what retcon they had to do for that, but I'm willing to accept it.
More info on Hana Saku Manimani, but no seiyuu yet so the post for that will wait.
Splash page for something called Toki no Kizuna Hanayu Tsuzuri, but it doesn't say whether it's a fandisk (it probably is though).
Norn9 will come out on May 23.
There's going to be a starry sky drama CD series, starring with one on April 26, focusing on graduation, and 2 years after graduation.
Also a 3DS version of starry sky…coming April 25. Remember, the 3DS is region-locked so unless you have a Japanese 3DS this won't work on it.
VitaminR teacher intros, similar to the W6 (Waru 6), the seiyuu return from VitaminX.
In mostly unrelated news, the original guys from Storm Lover will also show up in Storm Lover 2nd – not as love interests though.
Finally a release date for Tiny Machine Gun! May 30. And apparently there will be lots more info next month, so I'll try to do a post on it.
School Wars fandisk coming from Quinrose.
If anyone reads my tumblr, a long time ago I posted some pics of a campaign for new hires where Kazuki Yone designed two characters for one of the railway companies, Sanriku Tetsudou. I guess it was popular, because they are being turned into a CD! Suzumura Kenichi(blond guy) and Sakurai Takahiko(dark-haired guy) will be the voices. It's called, of course, Tetsudou Danshi (Railway Men).

January 26th, 2013

As you can guess by the title, I'm not impressed by Solomon's Ring. When it first showed up in the magazines, I was surprised because the release date was only about 3 months away. I thought for sure that it would get delayed. Now, delays are annoying when you're looking forward to games (ahem, Ozmafia!) but I don't mind them so much, because if they don't push things off, they might end up with products like this. To be frank, Solmomon's Ring has a really shallow story and characters, poor art design, and only functional gameplay.

The heroine, Lily, works in a library that she inherited from her grandfather (her parents died when she was young). I thought this was interesting (although I also thought it was historical but apparently it's not), but it has no bearing on the plot so it doesn't matter much. We open on the scene of her grandfather dying. On his deathbed, literally with his last words, he gives a ring to her and tells her she's the descendant of the magician king Solomon, and that she has to protect the world from demons using the ring. Then he dies (I guess he knew exactly how much energy he needed to tell her and then waited until the last possible second because of some unknown reason).

Lily puts away the ring for a year, then one day feels like wearing it for some reason (she doesn't mention the Solomon stuff, I guess she thought her grandfather was senile or something). She goes to work at the library, and three new visitors are hanging around – all young handsome men. They all approach her and start talking to her, calling her 'Solomon's daughter'. She mostly ignores them.

That night she has a dream (this is where you choose what route to go into) of being attacked by monsters, and saved by one of the men. The next day this actually happens, and she finds out that all three men are actually demons, and they want her power/the ring's power, for various reasons. The one she picks stays with her and they encounter some monsters, and as they beat them down (the ring can seal them and absorb their power once they're beaten), they grow closer. Then near the end they eventually have to face the king of demons, Lucifer, who wants to take the powered-up ring as well as the heroine's powered-up soul.

Many otome games can be summarized in roughly similar terms. The issue is that it feels like the whole script for the game isn't much longer than this blog post. Almost all the plot and relationship development happens offscreen (like, they talk about battles after showing you a couple blows, and they mention that the hero and heroine had long in-depth conversations without actually showing them). There are almost no scenes where you learn more about the characters, they're incredibly cardboard. Sometimes I complain about scenes that are too wordy or long (*cough*QuinroseorHakuouki*cough*), but this is ridiculous. It's like someone had an outline for an otome game, and instead of getting someone to then write a script from that outline, they added a couple lines of dialogue for each planned scene, and then put a few summarizing paragraphs in between.

Also, the art is barely acceptable. I'm pretty forgiving on art, I like to see different styles and try not to let pretty art distract me from gameplay. But in this game, though the tachi-e(the regular dialogue scene pictures) are ok, the CGs are actually worse than the tachi-e. And though some of the tachi-e are good, some are weird. Like. there's one pose that Asmodeus (a waste of Konishi Katsuyuki's voice IMO) does, where he spreads his arms out really wide, almost at shoulder-height. They use this pose for way too much and it doesn't work, the only time it works is when he's actually blocking something. It's distracting. Plus, there are very few CGs, I'd estimate around 5 per route. To be fair, if it was fanart I'd think it was pretty good. But for professional work it doesn't pass muster.

This CG is not good. And it's used multiple times.

The music is decent I suppose, I didn't notice it much to be honest.

Most things I can forgive, but the multiple writing problems – the extreme bare bones scenes, the lack of character development, the very paint-by-numbers feel of the plot – made me notice the other problems like the art more, and really, even though the game is cheap, it's still not really worth it. By the end of it I cared about none of the characters, I actually was more interested in Lily's friend Alisha's romance than I was in the main plot – and this is a romance that is mentioned in about three lines total.

It really really feels like a mobile game that was meant to be released in chapters. And even though I also dissed Koisentai(which actually was originally a mobile game), and this game is full voice whereas one of Koisentai's major issues was that it wasn't, I would still rather play Koisentai anytime, and I think it's more worth your money than this.

As I said, it's too bad because the voice actors are good, and the premise is interesting at least.

I am going to play the other two routes (may as well, it's one of the shortest games I've played), but unless Asmodeus' route was a total anomaly, I feel safe in emphatically NOT recommending Solomon's Ring. I'm not buying the other games, even though there are three more coming out, Wind, Water, and Earth. It actually makes me doubt how good Double Score is going to be, because they're both from the production company Asgard. But at least that game seems to have better art…

January 23rd, 2013

VitaminR – pics of the characters!

Fujishige Kazuma
The totally uncooperative leader of the problem kids in Class R who's also a violin prodigy. Kazuma doesn't think there's anyone better than him as well, but because of an event in his past, he was dropped from the elite class. Because of his extremely aggressive playing style, he's also called the Demon Prince.


Mochizuki Reo
Second in command of the W6, he and Kazuma are rivals and go a long way back. He doesn't care about anything other than playing his cello, skips everything except music practice, and coldly ignores his teacher.


Akagiri Eita
He's talented at playing the piano, but does things like play with his feet and break stuff – he's kind of brutal. He's even more combative with people, and sometimes bites them. He's the most violent of the W6. In spite of all that, he has a perfect sense of pitch and can play a piece after hearing it once.


Jan Felix Vallaud
He mixes French into his conversation, says he can see and talk to famous people who are dead, and is generally beyond the comprehension of normal people. He's also the only member of the W6 who's rich. Though he doesn't seem to be a troublemaker, the way he carries out the teacher's orders makes him unpredictable.


Haibane Kaoru – Said to be the best soprano in the school's history, Kaoru is also temperamental and it's tough to actually get him to sing. Because of his prince-like looks, he has fans all over town, but beneath his angelic face lies a black personality.


Asahina Tsukasa
He handles the violin as if it was part of him, and plays with such fervour that he's called the Fiery Violinist. He and Eita are natural enemies. He's actually from a village of ninja, and skips class often to fulfill his ninja duties.

And the rest of the news!

New Hakuouki game! Uragata Hakuouki, with a new artist and new heroes – Takasugi Shinsaku (CV: Sugita Tomokazu), Katsura Kogorou (CV: KENN), Okada Izou (CV: Suzumura Kenichi), a ninja, and Glover (CV: Sakurai Takahiro), a blond guy with green eyes (not blue!!).
No release date yet for Tokimemo Restoran
Amnesia Crowd, however, is set for April 18
Sangokuren Senki (kind-of) fandisk – Sangoku Rensenki Omoidegaeshi – it will have several parts including an afterstory part. I know right now that I'm going to get this.
Info on O*G*A – I'll put that in a separate post.
Kuro to Kin no Akanai Kagi is getting a mobile(iphone only) version!! That will be interesting to see…it will be 750Y for each story, 250Y to get the boy's perspective, or 850Y combined. I'm not sure if that's for each story, or if the 750Y covers all the stories. If it doesn't, that's one heck of an expensive mobile game when it's already available on the PC.
0ji no Cinderella has been pushed to May – *extreme sadface*
Don't know if this is news, but Quinrose is also making a sequel to Hyakki Yakou, and School Wars. I don't know how I feel about that.
Characters for Solomon's Ring ~Mizu no Shou~ announced. I just started playing Fire now – it feels a LOT like a mobile game.
Not exactly otome, but it's in Girl's Style so I can include it – Tiger & Bunny's game ~Hero's Day~ for the PSP is an adventure game with a new story! So I'm gonna get it.

January 11th, 2013

Videos for the weekend! But first some news: O*G*A, Onigokko Royale, (Onigokko is the Japanese version of tag) the drama CD series(?) is being turned into a game from Otomate.

And now, look! Video otome game reviews! I'd love to do video reviews! Anyone know how to connect your PSP to a PC and record stuff? These are in German but I'm pretty sure there are some German readers here. Whoever this girl is, she rocks! Also, Villainqueen is a great name.

She also has a blog, I think I'll put a link on my blogroll.

Tokimemo Restoran!
Go here and you can watch a bunch of stuff, 'interviews' with each guy, vote for your favourite, and the following:

Short 'music video' from 3 Majesty:


Short 'music video' from XIP:


XIP discusses their first interviews:


Eikoku Tantei Mysteria is coming out in March from Karin Entertainment (Grimm, Princess Nightmare) – lots of detectives + Jack the Ripper! I'm thinking of getting the limited edition for this one.


VitaminZ fandisk coming out on the 31st! I hope they manage to make a story about the week before graduation good (I like the OP song anyways):


For all you Amnesia lovers out there, here's the PV of the anime series (you can watch it on Crunchyroll for free!):

I read the summary for Crowd, and it seems each story is from two perspectives, about one day when the heroine gets separated from her boyfriend, and they each try to find each other. Could be fun. If I could just find the time to play the original… (>ω<;)ふぅ・・・

Princess Arthur! I'm totally getting this.


I did have lots of fun playing Glass Heart Princess:


And of course Desert Kingdom:


January 10th, 2013

I'm not sure why, but Koei is releasing 'best edition' (read: cheap) versions of two of the most popular Harutoki games this month for the PSP.

The first is Harukanaru Toki no Naka de 3 with Izayoiki Aizo Ban (best edition), one of the most enduringly popular otome games as rated by fans. I'm thinking of getting this, as I only have it on PS2, and as Izayoiki was a fandisk that you had to swap in and out with the original game to play, is a right pain, especially since my Japanese PS2 went kaput. In this version Izayoiki is one the same PSP cartridge as the original game, so NO swapping is needed! Yay! Plus, at only Y2800 this is pretty cheap. It's an RPG (nothing too hardcore), so you get quite a few hours of playtime. And Shirogane was before his time as the sexy psycho who ends up being more popular than the main characters (I love him too, I can't help it).

The other is the sequel/2nd fandisk for Harutoki 3, Harukanaru Toki no Naka de 3Unmei no Labyrinth Aizo Ban (best edition). It's also new to the PSP and Y2800. It's set after the 'normal', happy but not romantic, ending of #3, and is in the heroine's world. The plot is totally unrelated to history in this one.

So if you've never played a Harutoki, and/or you're interested in otome RPGs, I'd recommend getting the first game.

They're also releasing Harutoki, the original game Hachiyousho (OK the original was on PS1, but Hachiyousho is the PS2 adaptation) for the PSP, but for some reason it's more expensive. I don't think it's really worth it. Plus i just like #3 much better.