Posts Tagged '三国恋戦記'
July 29th, 2008
From Daisy² for the PC
I thought I'd take another look at Sangokuren Senki today (yeah, it's Sangokuren, not Sangokushi like I said before), and learn some more about it. The premise is that the main character, a normal high school girl named Hana, reads a book in a library and is transported to the time of Sangokushi, or the Three Kingdoms (the story was first introduced as the Romance of the Three Kingdoms and also popularized in the war strategy games Sangokushi Senki) of China in the second and third century AD. She first meets a character named Koumei, who tells her to go and join Gentoku, who turns out to be a general of one of the armies. Somehow she's mistaken as an advisor, so throughout the game she helps direct the army. Though you start off with the Gentoku army, depending on your choices you can join one of two other armies, Moutoku's, and Chuubou's. Apparently these were all real people in the story, because the designer talks about how she (he?) changed or went with the popular image of the characters.
So, here are the main characters in each army:
*********Gentokugun*********


Gentoku! The general, he's a big brother type who inspires loyalty and is loved by his troops.


Fuyouhime – she becomes friends with Hana and likes to talk about girl stuff with her, but she also fights.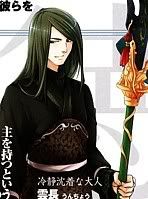 Unchou – he is usually calm and reserved, but will tell his opinions to close friends. He and Fuyouhime bicker a lot.

Shiryuu – he's not very friendly in general, and especially to women, but he's a genius with the spear.

Yokutoku – Not great at thinking, Yokutoku is likely to act without thinking. He's very fond of Gentoku, and apparently though he's usually friendly, when he gets drunk his personality changes.
*********Moutokugun*********


Moutoku - the second general, he looks like he doesn't take responsibility seriously, but actually he's an expert at being in charge and governs a large area.

Bunjaku – Moutoku's right-hand man, he is serious and always wants to do what results in the most advantageous situation.

Genjou – He's worked for Moutoku for a long time and is good friends with him. He's friendly and trustworthy (I don't think you can capture him though)
*********Chuubougun*********


Chuubou – Arrogant but somewhat insecure at heart because he's trying to live up to his dead father and older brother, Chuubou commands a large navy in addition to his land forces.

Shoukou – Cheerful and good at archery, Shoukou is Chuubou's younger sister who wants to join the fighting.


Koukin – Always smiling but never showing his real emotions, Koukin worked for Chuubou's older brother before he died. He loves music and has a soft manner, but plays a key role in commanding the military.
Phew, that's a lot of characters. I should really read that Romance of the Three Kingdoms novel I have and see who these guys are…but it's really long! And I think it's just the first volume…maybe I'll buy the Coles notes version instead.
Anyways, so this game looks fun too (I know I know, like you need MORE games to buy
) and it is supposed to come out sometime this winter.
Maybe tomorrow I should do a game or two that's actually coming out this fall, hehe. Is there one you want to know more about? Lemme know in the comments!