Posts Tagged '前田浩孝'
July 3rd, 2009
As a huge fan of VitaminX and Z, of course I'm planning on getting Lucian Bee's (coming out July 30th), which is from a different publisher (5pb instead of D3) but with the same character designer (Maeda Hirotaka).
The full title is a doozy: Lucian Bee's Resurrection Supernova – what that has to do with the plot I have no idea. However, that plot sounds pretty awesome.
The heroine is a new recruit to a secret group 'Lucian Bee's', whose mission is to makeover ultra dorky / jerky guys the world over for the sake of all women. A very noble task! The heroine has two comrades, and they're all called Strikers. The game focuses on making over members of a new idol group, Romanxia, whose members all have problems keeping them from being "ikemen", and are from all over the world. Let's take a look shall we?
First up, Luke(from the States) and Anjelica (from UAE).
Luke Rockwell (CV: Takeru) is a major geek otaku, is the son of current President, and is very nice, but due to his social awkwardness, is made fun of by his beautiful and smart fiancée.
Age: 19 Height: 185cm Weight: 69kg
Anjelica Asiyuwan (CV: Hino Satoshi) is the oldest son of the mayor of Dubai who loves gambling and women. He's very spoiled and his dream is to become the richest person in the world.
Age: 17 Height: 180cm Weight: 60kg
Lee Katoru (China) (CV: Kaji Yuki) has been raised disguised as a girl since he was young to protect him, since his dad is a mafia boss. He's expert in dance and music, but since he's been so sheltered, has a hard time trusting people outside his family.
Age: 16 Height: 171cm Weight: 56kg
Vann (Japan) and Jesse (UK)
Vann Caien (CV: Suzuki Tatsuhisa) is the leader of Romanxia as well as the top motorcycle gang in Tokyo. Though he's not a scholar, he takes care of his friends and is trusted by his gang.
Age: 17  Height: 174cm  Weight: 65kg
Jesse "Kid" Squire (CV: Terashima Takuma) is the lead singer and guitarist of a popular London indie band, "Knights of Round". He's also the son of a famous rocker, but hates getting special treatment because of it, and doesn't have a great relationship with his dad.
Age: 18 Height: 182cm  Weight: 67kg

Remmy "J" Belmondo (France) (CV: Miyano Mamoru) is the star of a national opera company, Grand Etoile. He's very talented, but also pretty narcissistic and always wants to stand out.
Age: 19  Height: 177cm  Weight: 59.5kg
To help in this monumental task, the Strikers have the help of the Metropolis V, the advisors of Lucian Bee's who each excel in a certain area vital to being a drool-worthy guy.



From left:
Guido Ashanti (CV: Yusa Kouji) Specialty: Fashion
Didie Lightnorth (CV: Suzuki Chihiro) Specialty: Cooking
Nathan Bloodline (CV: Kamiya Kouji) Specialty: Hairstyling
Frederick Barnard Jr (CV: Fukuyama Jun) Specialty: Design
Cromwell Neeson (CV: Oozuka Akito) Specialty: Etiquette
So what makes Lucian Bee's job so hard? There's actually a rival organization who work to turn cool guys everywhere into hopeless jerks and losers! Why? Hopefully we'll find out in the game. Anyhow, this organization, Daresign, has a group called the Honey Buzzard VI: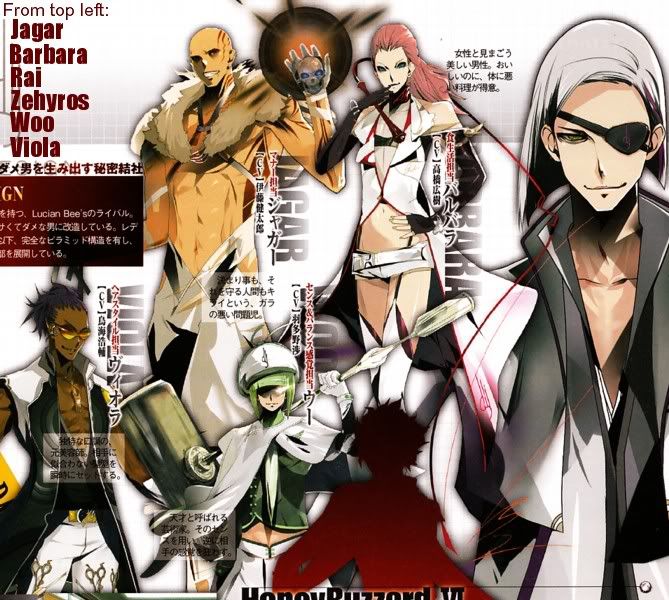 Rai (CV: Suganuma Hisaya) Specialty: Fashion
Viola (CV: Toriumi Kousuke) Specialty: Hairstyling
Jagar (CV: Itou Kentarou) Specialty: Etiquette
Barbara (CV: Takahashi Hiroki) Specialty: Food
Michelle Woo (CV: Hatano Wataru) Specialty: Sense and balance
Zehyros (CV: Sugita Tomokazu) Specialty: Unknown
With all these secret organizations and conspiracies, this game is definitely going for a spy/undercover theme, which sounds really fun.
The gameplay involves makeover missions that you go on to 'fix' each guy. You first choose your target, then choose a mission (I think the missions for each guy go in a certain order, but once you finish one, you can replay it). You put on a disguise, and get briefed by the Metropolis V. During missions, you have to make sure the target doesn't catch on to your disguise. The level is shown by the Stealth Gauge, which decreases as the target starts to suspect something is up.  If you get through the mission with stealth left, you're clear! Then you get the results of your mission as to how successful the makeover was.
I can't wait for this game to come out, I'm hoping that not just the character style, but the fun of the Vitamin series was brought in to this new title.
And finally, here's the PV: