Posts Tagged 'DS'
January 15th, 2015
Reposted from my IGN blog because this game is awesome, originally posted: 2008/01/20
Duel Love by Bandai Namco


Release date March 13
Pics are from B's Log, January 2008 issue pp. 34-37 from Enterbrain and Dengeki Girl's Style 11/20 2007 Edition from MediaWorks pp. 156-161. Images are copyright Bandai Namco.
In this first otome game from Bandai Namco, the main character(you) has just transferred to Keiou High School. After class, your classmate brings you to the school basement, where you find out the school's secret…it's the location of a secret fighting tournament!
I doubt this would have happened at my high school, since we didn't even have a boxing ring, but man! It would have been cool if it did.
Duel Love is a Nintendo DS game that focuses on several guys who are trying to win in the B-1 fighting league, which holds fights at Keiou high school at night. The only rules to these fights are no firearms, no thrown items, and no weapons (wouldn't that include firearms? Nevermind, look over there!)
First up, character intros. The character design was done by Hisaya Nakajou, the author of Hana-Kimi (Hanazakari no Kimitachi e), and it shows(for those unfamiliar with the series, the main characters are in track and field, and the whole cast is very long and lean). These fighters are the scrawniest specimens I've ever seen step into a ring. Some effort was made to make some of them 'more muscular', 'lean' instead of just skinny, but I think it will take me some time to get used to the look. Oh, and one of them is almost the twin of Mizuki. So I figure chibi characters are enough to let you tell who's who. Plus, I'm lazy – big pics take longer to edit.

Jin Yuuki CV: Namikawa Daisuke – the player's classmate who is not that friendly to begin with, but warms up slowly.

Yuuma Asakura CV: Fukuyama Jun – also a classmate, Yuuma speaks in Osaka-ben, works at a takoyaki stand in the park, and is very outgoing.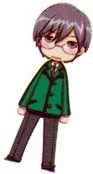 Shinichirou Nagao CV: Yusa Kouji – I think he's in 2-D (the player's class) as well, at first glance he's the typical smart guy with glasses, but he's not very good at talking to people and he says some unintentionally funny things.

Tomohiko Tachibana CV: Kasuya Yuuta- a shrimpy first-year, though he looks like Mizuki he has a sharp tongue and is determined to show his strength in the tournament.

Kei Ryuuzouji CV: Ryoutarou Okiayu – a third year who's good at school, a gentleman, and seems perfect, but no one knows what he's really thinking.

Masayoshi Date CV: Nakai Kazuya – the intimidating former school council president, he looks like a troublemaker but is actually a top student.
Sugita Tomokazu and Ono Daisuke are also semi-main characters, they play teachers in the school who have some history together as well.
You play the new girl in school who has 3 classmates in the tournament. You get involved with helping the fighters, and the goal of the game is to help your fighter get to and win the championship (and of course fall in love along the way). Whew, sounds tough, probably involves a lot of training mini-games and maybe nutrition and stuff..
Edit: It does have a lot of minigames, but they are hilarious and awesome and not hard. Case in point: the massage game, shown below. Truly a gaming masterpiece.
October 3rd, 2010
Yes, for all of us who try to plan our otome budgets (try being the operative word) the next couple months is a good time to save up for the avalanche of new releases coming in the winter.
I bought a few games over the summer, but not a whole lot. Here's what came out this summer:
July:
Waga Ichizoku PSP
Xechs PS2
SYK PSP
Natsuzora no Monologue PS2
Takuyo Mix Box PSP
Mahoutsukai to Goshujin-sama PC
Storm Lover
HnK 2 PSP
Hakuouki Zuisouroku PSP
Nise no Chigiri PSP
Starry Sky After Spring PC
I only got Xechs, Storm Lover, and Nise no Chigiri (the only one I've finished so far and I'm praying for a fandisk! Working on Xechs now too). Not that much for the whole summer.
This fall, there are some games coming out, but other than adaptations, not many brand-new titles.
VitaminX EvoPlus
Starry Sky ~Summer~ PSP
HnK 4 PSP
October:
Tenkaichi Sengoku Lovers DS
Uragiri wa Boku no Namae o Shitteru PS2
Lucian Bee's PSP
Hakuouki Reimeiroku PS2
I think I might get the DS game (because I think it might be hard to find later, heh) but that's about it – I'm not that interested in the Hakuouki spinoff/prequel, and I can wait to get the Lucian Bee's fandisks. Same with Starry Sky Summer – I haven't even finished Spring…
But now check out November and December – holy that's a lot of games!
November:
Happy Magic! PC
Renai Banchou PSP
Pandora PS2
Kanuchi ~Futatsu no Tsubasa~ PSP
Love Revo Best PS2
Palais de Reine Best PS2
Miyako PSP
Clock Zero PS2
Ishin Renka PSP
Starry Sky ~After Spring~ PC
Asuka! PC
December:
Kuro to Kin no Akanai Kagi. [R18]  PC
Tsubasa to Oka no Hime  [R18] PC
Crimson Empire PS2
Armen Noir  PS2
Starry Sky ~in Autumn~ PSP
Harutoki 4 PSP
Kaerubatake de Tsukamaete! fandisk PS2
Wand of Fortune fandisk PSP
Not just adaptations/fandisks either! I definitely want to get at least four of those: Ren'ai Banchou, Miyako, Ishin Renka, and Harutoki 4. And I *really* want to get Pandora and Armen Noir as well…and Crimson Empire looks good too, and Wand of Fortune 2(edit: they changed this and it's the fandisk now, so yay one I don't have to get!), aagh! I'm trying to hold off on PC games until I can actually go to Japan and hopefully buy them cheaper (am I delusional? quite possibly).
I should start saving now for all these games, maybe I can ask for one for Christmas as well, but boy, I need to seriously budget this winter!!
What game or games are you definitely planning on getting this winter?
July 11th, 2010
It finally appeared in my mailbox, and I am now playing through Tokimemo GS 3!! There is so much to do here, even more than previous games, and it's a lot of fun to just play through, but I thought since it's got a lot of features, I'd use my otome mojo (ahem, look through otome mags and websites) and explain some aspects that beginners might find useful, especially for non-Japanese readers.
OK, well one great thing about Tokimemo is that the gameplay is pretty self-explanatory as far as the sim part. You choose what to do during the week and weekends/holidays, and these raise your stats. You can also work part time to earn money (and spend time with the character you like) and buy clothes to wear on dates. There are also several school events that have special minigames.
Some things that a first-time player might wonder about:
Dates and 'skinship': This strange word means touching a guy. There's a tutorial at the beginning (which is pretty funny, it made me laugh), here's the summary:
There are 5 places to touch: Hair, eyes, mouth, body, and arm.
There are 3 ways to touch: A light tap, a pull, and a long touch. The long touch has to be used carefully, because it's pretty bold, so you need to have a high affection level with a guy, and have the 'mood' be right, to get it to work well.
If you're having trouble or think it's a pain, don't worry! It doesn't affect affection levels, it's just for fun and to get 'daisekkin', which is basically an ultra-skinship event (remember kids, this is a PG game, nothing risque here!).
Horoscope:
This is the computer report that shows your luck in various areas through the weeks. You should use these as a guide for what to focus on. From top to bottom they are:
Benkyou (Study): Good for studying, geijutsu (the painting), and culture clubs
Gyouraku (Pleasure): Good for fashion and doing stuff with Karen or Miyo
Kenkou (Health): Good for exercise and sports clubs
Renai (Love): Good for Miryoku (the liptstick button) and asking people out on dates
For more specific info, including date answers, I found this wiki really helpful.
I'll post more if anyone's interested, right now I'm in a love triangle with Ruka and Kouichi
April 17th, 2010
I caved and ordered VitZ Revo, and got it a couple days ago. I've done Tendou's normal route, and am in the middle of his dream route. Aa, Vitamin wa tanoshii na~!
I must say though, it looks great on the PSP – very clean and crisp. I also got Dear Girl Stories ~Hibiki~ at the same time, so I'm kind of comparing it to the DS as well. By the way, apparently DGS doesn't really have any romance in it – d'oh! It's just a stat-raising game with some almost-romantic-but-not-quite moments in it.
I also got some new magazines, and ooh good stuff in them! Girl's Style came with an 8-page book about Kazukiyone and Hakuouki, as well as Hakuouki bookmarks and Starry Sky stickers! It's probably because there's no CD or DVD-ROM.
I didn't even realize that Starry Sky got animated, but um yeah, it is! Haha. Girl's Style also had info on the PSP versions, which will have several additional scenes, backgrounds, and other changes (one is that you can choose to show the heroine's face, which is good, but sounds creepy that she didn't have one before :P)
Storm Lover had some info as well, it will not only have routes leading up to a relationship, but will be about maintaining the romance or breaking up if you fail, and maybe even getting back together later! Interesting.
There's also an article on the game system and some of the scenes in Xechs, it seems kinda complicated so I think I'll post on that later.
Oh, and Mahoutsukai to Goshujin-sama has a release date! It's set for July 31.
August 14th, 2009
OK, this is not an otome game, but I just found a site that says Kimi ni Todoke, the extremely sweet manga from Bessatsu Friend, is being made into a DS game and released this October.
Details? All I could find is that it's from Namco Bandai – I couldn't find a site for it
June 24th, 2009
Whee, several more games announced in this month's B's Log and Girl's Style!
Fall 2009
Signal – for the DS from D3 Publisher – set as a kind of sequel to one of their first otome games, Backlash
Crazy Rabbits – for the PC from Tiaramode, this R18 game involves a company that specializes in…making couples break up. Interesting!
Winter 2009
Last Escort -Club Katze- for the PS2 AND the PSP (at the same time!) from D3 Publisher
memories – R18 game for the PC from Chocolatier, a new otome game brand. The basic story is of a heroine who transfers to a new high school and meets several guys, all different 'types' – the 'cool guy', the smart student president, the playboy, the cute innocent guy, and the older man.
Lots of news about other, not brand-new games as well, including…a Hiiro no Kakera 2 remake!!! Not a port or adaptation, this is a pure remake…I might do a post on this later. In fact, just look at all those HnK releases – I think I'll name October 1 Hiiro no Kakera Day!
Other news on release dates and adaptations:
July 24: Souten no Kanata for the PC from Mi-o (YAY I was waiting for this!)
Sept 17 2009: Hoshi no Furu Toki Portable for the PSP from Otomate – woot! I tried to order this (the first Otomate game from Kazu Kiyone) and they couldn't find it – apparently they are starting to re-release old titles as "Otomate Classics"
Oct 1 2009: Hiiro no Kakera  Shin Tamayorihime Denshou for the PS2 from Otomate
Oct 1 2009: Shin*Hiiro no Kakera 2 for the PS2 from Otomate
Oct 1 2009: Hiiro no Kakera (original) Aizouhan (Perfect Edition) for the PS2 from Otomate
October 2009: Death Connection for the PS2 from Otomate
Fall 2009: Nade Pro (the seiyuu game!) for the PS2 from Gungho Works
June 11th, 2009
Dengeki Online just announced detailed info on a new otome game from D3 Publisher, and it's in the survival suspense genre! It's not a horror survival like Resident Evil (thank God because I don't think I could play it), but the premise is that the heroine gets stranded in an old school building in the middle of nowhere with several male students, a teacher, and a teaching student, and has to find her way out while a killer calling himself "Kamen no Shinigami" (The Masked God of Death) starts to attack them.
Kurayami no Hate de Kimi o Matsu is slated for a fall release for the Nintendo DS, and seems to have a puzzle component as well. To get out of the old building, you have to solve some puzzles using the touchpad and collecting items with one of the six guys you were stranded with. To make things even more nerve-wracking, the killer is one of the six guys you can choose!
The site has character info, and the Dengeki site has a bunch of screenshots showing the setup.
March 25th, 2009
Once again D3 has created a really interesting premise for their new DS game, Saikin Koi Shiteru? It's set in a normal high school, but it has a twist. The main character is a regular if slightly clumsy girl, who is hurrying to class on her first day when she falls into a spring on school grounds. It turns out that this spring is no normal spring, and she comes face to face with a saikin, a strange little creature. After that, she starts to see strange things, including seeing the little saikin hovering around certain boys. What does it all mean?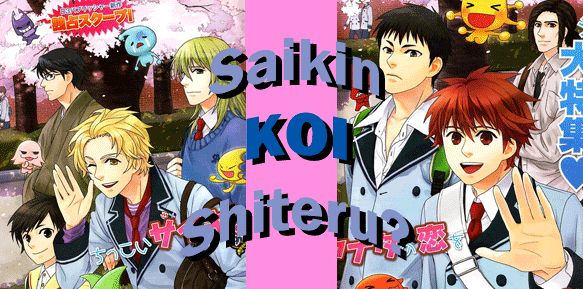 The art is pretty simple, but I can see it working on the DS. And the saikin are so cute! Apparently they're little creatures that the main character sees when someone she's talking to feels a certain emotion – there are angry saikin, sad saikin, etc.


If you've played Panic Palette, the concept is somewhat similar – when you're having a conversation with someone and they feel a strong emotion, a saikin for that emotion appears. If you 'catch' it with your DS pen, you can collect that saikin for later use. Unlike Panic Palette, however, you need to talk to different people to get different saikin.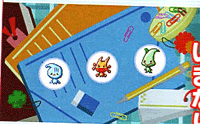 Later, when you're talking with a boy and a star appears near him, you can then use one of your collected saikin to make his mood change for a moment to that feeling. The guy might show or tell you more than he would normally.
January 19th, 2009
Is coming to the Nintendo DS!
Famitsu announced today that Tokimeki Memorial Girl's Side 1st Love Plus will be released March 12. It will also include the 'Album Mode' that was in the PS2 version, where you can look at memories 'with the character' and listen to their comments.
Haha, I should really play that again, right now I've only gotten one character…I am too easily distracted…
July 23rd, 2008
Just a short update on release dates for the fall – Comic Garden is pushed back to September
Alice is released the end of August, and some new ports/adaptations to portable and region-free consoles, yay!
Aug 21
Uwasa no Midori-kun 2 DS
Harutoki Yume no Ukihashi DS
Aug 28
Heart no Kuni no Alice PS2
Sep 11
Hoshizora no Comic Garden DS
Sep 18
Hakuouki PS2
Sep 20
Neo Angelique Special PSP – hmm, the site says that the 4 new characters from the anime show up here in special events, but I don't *think* they're available as character routes.
Sep 25
Kanuchi (White Wing)
True Fortune
Oct 9
Will o Wisp Easter Miracle
Fall
Bakumatsu Renka DS
Hoshiiro no Okurimono PSP
Hoshigari Empusa PSP