Posts Tagged 'garnet cradle'
December 13th, 2010
Drat, I had this ready last week but was holding out, hoping that a Nise no Chigiri fandisk would be announced (it will happen I swear!!) and then forgot to publish this
Anyhow, there is a new Angelique game coming out! But it's a 'social game'. Love Love Tenshi-sama Angelique is scheduled for Spring 2011. All that's up now is a little movie showing some of the characters (done by Yura Kairi), five of which have seiyuu already: Sugita Tomokazu, Narita Ken, Namikawa Daisuke, Fukuda Kenji and Horiuchi Kenyuu. Anyone have any idea what this will be?
<object width="640″ height="385″><param name="movie" value="http://www.youtube.com/v/B107zItfPqA?fs=1&amp;hl=en_US"></param><param name="allowFullScreen" value="true"></param><param name="allowscriptaccess" value="always"></param><embed src="http://www.youtube.com/v/B107zItfPqA?fs=1&amp;hl=en_US" type="application/x-shockwave-flash" allowscriptaccess="always" allowfullscreen="true" width="640″ height="385″></embed></object>
And good things come to those who wait! Garnet Cradle is coming out on the PSP from Otomate, yay!! I hope there's new stuff added in, but really I'm just happy to be able to play it. I've heard the story is not amazing, but that art…I can't wait to see it on my PSP!
I also noticed a new R18 game coming out from Aromarie, Chou no Doku, Hana no Kusari (Butterfly Poison, Chain of Flowers), set in the Taisho era. It's planned for Spring 2011.
January 2nd, 2009
Well, now that winter vacation is over (not that I meant to take any…), there was some news in the mags this month:
New games – one each for the PC and PS2, and I can't remember which is which – one looks to be set in a kind of alternate history.  It's in an imaginary country, but it's about pilots and the planes look to be circa 1920, give or take a decade. It has an interesting artstyle that I haven't seen before in an otome game. Some more info on Souten no Kanata, Wand of Fortune and Arco Baleno from Otomate, and a new R18 game from Mirai.
Other news – Garnet Cradle is scheduled for March 27 – so much for winter 2008
Some other things we knew already, like Will o' Wisp being ported to both Nintendo DS and PSP with Easter no Kiseki – they're both planned to be the same price, which is nice for PSP users. Harutoki Ukihashi is being adapted to the PS2, with extra scenes overall and material for Akuram, Shirogane, and Tomomori.
There's a lot of scanning I want to do for the new games, hopefully I can do that soon!
September 7th, 2008

Garnet Cradle is the first otome game from a new brand called Spica. It's coming out this winter for the PC, and the story moves between a high school and a mysterious parallel world that has an Arabian style. It's being produced by Carnelian, and the art is by Kumoya Yukio.
There is still a lot unknown about Garnet Cradle, like the seiyuu, so today I'm going to focus on the characters.
Miku: the main character is a strong young woman who sticks up for those weaker than herself. She also has trouble saying no to people, and since she is mature for her age, often gets relied upon. She has almost no experience with boys and has never been in love.
Nonose Misaki: One of Miku's best friends, she's the president of the club that Miku belongs to, and is very knowledgeable about culture and history.
Shirato Tsubaki: Sou's younger sister. Though she looks cool and quiet, she's actually very opinionated, and wants Miku to be happy.


From the left:
Shirato Sou
Height: 176cm
Birthday: April 4
Bloodtype: A
He's protected Miku since she was little, and remains as her classmate to do so, even though he's really two years older than her and a university student.
Teshigawara Touya
Height: 175cm
Birthday: September 9
Bloodtype: A
Miku's fiance who always gets top marks, he feels some resistance to the path that his family has laid out for him, and treats Miku coldly because of this.
Sairenji Rihito
Height: 177cm
Birthday: February 2
Bloodtype: AB
The school council president, he has a Japanese and a French parent, and is also the captain of the fencing team. He's considerate and friendly on the outside, but he sometimes seems uncaring.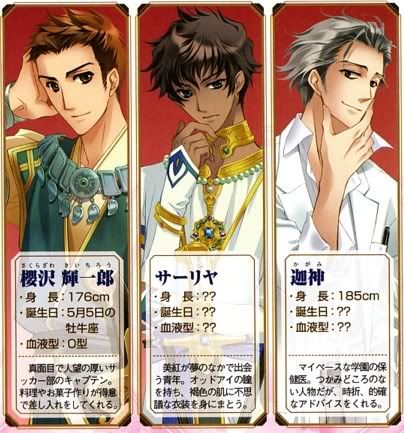 Sakurazawa Kiichirou
Height: 176cm
Birthday: May 5
Bloodtype: O
Popular and serious, Kiichirou is the captain of the soccer. He's very good at cooking and baking, and often brings treats in to school to share.
Saariya
The prince that Miku meets in the other world. He has one blue eye and one grey one.
Kagami
The nonchalant school nurse. He's inscrutable and hard to figure out, but sometimes he gives very accurate information and advice.
I wish I had more info, but that's all I could find for now! The game's site is up, it has the character info and a few CGs.
July 26th, 2008

"Between reality and illusion it lies – the rocking cradle.
My love is a garnet that reveals the truth."
Yup, I'm putting up some more info on Garnet Cradle because it looks cool. As usagijen said, right now it interests me the most out of all the new games – for me the artstyle is appealing, and that one guy from the previous pic is very exotic!
The story is also interesting. Miku, the main character, is a high school student that is mature for her age and thus gets a lot of things pushed on her. The latest chore she's been assigned is to work on a script for the class play. When she reads it, she gets to the ending and wonders why it has to end that way.
She meets a black cat who leads her to a hidden spring in the school where she falls into another world, an Arabian-style world where some things are different but many things are familiar. The palace that she appears in reminds her of her school, and she meets several people who exist in her world as well. Miku begins to travel between the worlds as if she's on a cradle rocking back and forth. As time passes, she recognizes events in the other world as being from the script, and eventually the ending occurs and Miku is sent back to her world, only to return to the day where she is handed the script.
Miku decides to rewrite the script to change the outcome, and slowly events change, for better or worse.
Sounds intriguing huh? In addition to this, we also know the main characters already.
Miku, the main character, is a mature young woman who can be depended on, but she's never been in love and doesn't have much experience with guys.
Sahliyah, the character shown in the main poster, is a prince that Miku meets in the other world. He has one blue and one green eye, and doesn't trust women.
Sou is two years older than Miku and has been her friend and protector since they were little. Though he doesn't like to fight, he is protective of Miku, and he has a strong code of honour.
Touya is Miku's fiancé as arranged by their parents, but he has a strong aversion to being dictated to, and acts cold to Miku as a result. He's also the #1 student at school and is the archery club's rising star.
Rihito is the student president, and is friendly and very popular with both sexes, but he doesn't let anyone close.
The soccer team's captain, Kiichirou is frank and open with people and hates being constrained. He also has a domestic side; he's very good at cooking and likes to raise tulips.
Kagami is the school nurse who's hard to pin down – he seems nonchalant and can act too familiar with the students, but he gives very good advice.
The guys who Miku knows in her world act differently in the other world and don't seem to be aware of their other selves, but the producer (Carnelian, known for several BL games) says that in the real world they do retain some of their otherworld awareness, so as things change in that world, their attitudes will also change.
Voice actors haven't been chosen yet, but Carnelian says that it's planned for the major characters to be fully-voiced (other than the main character, who Carnelian says is dependent on fan feedback). Yay!


The game is the first from Carnelian's new otome game line, Spica, and is planned for a winter release.
July 24th, 2008
First, game news! I scanned some pics already so I'll add those when I get home from w*rk.
Several new PC games on the horizon:
a new Alice game called Joker no Kuni no Alice,
a very pretty fantasy game called Garnet Cradle (the art reminds me of Clamp),
one based on the Sangokushi period in China called Sangokushi Senki.
Here are the pics!
The joker, the new character in Joker no Kuni no Alice!
Garnet Cradle!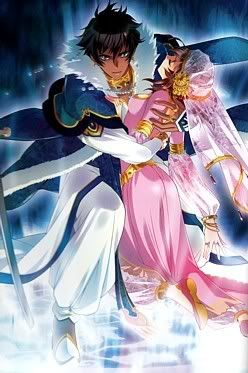 And finally, Sangokushi Senki!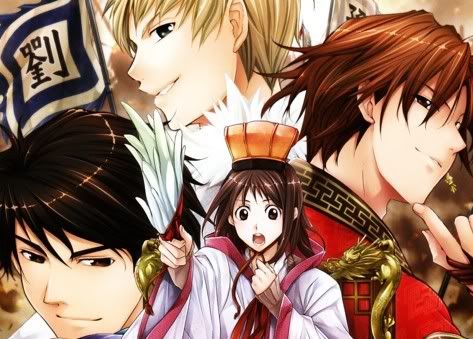 I'm revealing my sources now, so I hope people still come here after finding out my secrets! OK, I'm totally exaggerating, it's not that hard to find these, and if you have a Japanese bookstore in your area you might be able to buy these or order them! And I'm eternally jealous, because in my city of 6 MILLION people we still don't have one really – well, there's one in the back of beyond that only takes mail orders, but it's not great and has NO new books or mags. Plus it takes me over an hour to get there, so forget about it!
/whine, start list!
B's Log: This magazine comes out monthly on the 19th and comes with either a CD or DVD-ROM with music or demos and wallpaper and stuff. It covers otome and BL games, and some RPGs as well. It's also the biggest size mag, around 11"x14".
Dengeki Girl's Style: This mag is released every two months on the 10th – next one is Aug 10th. Same kind of stuff as B's Log, no CD or DVD IIRC, but sometimes has extras like pamphlets.
Cool-B: This mag comes out every two months on the 4th of even months, and focuses more on BL games, but they do have stuff on otome games.
Cool-B Sweet Princess: This is an 'add-on' mag to Cool-B that only comes out twice a year or so. It focuses on otome games and not so much BL.
To be honest, they're all kinda similar, but they'll have different pics and they get a lot of art that's specially done for them (kakioroshi) by a game's artist. They might also focus on different games or different parts of games, but one thing I love about all of them is that they include walkthroughs and tips on the games.
Oh, and I also check the Famitsu website as often as possible for up-to-the minute gaming news, though I always forget to check the PC page