Posts Tagged 'Grimm'
March 17th, 2012
Some new vids out:

Vampire Sweetie, the R18 game from Sugar Beans that looks really sweet (I'm hoping it actually is)


Arabian's Lost – it's all showing CGs. I wonder if they removed the gameplay T.T

Kami-sama to Koigokoro – the new game from Takuyo where you're a novice and fall for priests-in-training (and one actual priest I believe)

Bakudan Handan, coming in June about the niece of Inspector Layton(IIRC) and a bomb scare in an amusement park.

Jyuzaengi! Cat people in ancient China! And look, the PV has some animation. I think I'm pre-ordering this.

The new R18 game PersonA based on Phantom of the Opera.

Hitofuta Kihyou coming from Profitrolle March 28 for the PC.

Brothers Conflict Passion Pink, for the first half of the new stepbrother romance.
And finally, one adaptation, I want to get this but I have the PS2 versions…

Scarred Rider Xechs + fandisk portable
February 28th, 2012
Quinrose's newest game is about a bounty hunter and the men she gets tangled up with – both the wanted men she hunts, and other bounty hunters. Not too much info right now, but here are the characters.
Heroine: Riza Bernet
Adolf Rooto – An up-and-coming bounty hunter who decides that Riza is his rival, he often shows up to compete with her. He also really looks up to Bremen.
Bremen Marsh – Riza's mentor and former bounty hunter, now he runs a bar where bounty hunters come for info. He seems very nice, but actually still has underworld connections and is very crafty.
Henzel Nashkatz – A conman and thief who uses traps.
Gretel Nashkatz – With his older brother, also a thief who specializes in traps. Both brothers love sweets.
Jure Rosmond – An assassin who uses both knives and poison. He's always sleepy and is often late.
Rapunzel Doturm – A master spy and thief, he pulls off really unusual stunts. Apparently the heroine met him in her past.
November 5th, 2010
It's year-end for me at work and that means not much quality gaming time, boohoo! But I've been doing a little on my PSP, trying to finish a couple games. And waiting for one of the new games that I want to play; as I feared, my Sengoku Lovers order was cancelled saying they couldn't find it
On the bright side, that saves me money – I also reaaaalllly wanted to get the new Nise no Chigiri visual fanbook that came out on Monday, but I'm resisting…barely. I don't remember if I reviewed Nise no Chigiri, but I fell in love with the characters, even though the story (and the CG selection) was…spotty. Well, the plotlines were good, but it could have been fleshed out WAY more, especially the endings. I'm hoping strongly for a fandisk for that game, it could be sooo good – on 2chan people want a 'perfect' edition, but I'd be happy with anything! I'm skipping the new Hakuouki game – I still haven't finished the original! And plus, Reimeiroku has no romance, so…I can wait
Next one coming up is Ren'ai Banchou!
So right now, I'm on Grimm and Steelwood. I love Grimm, I think it's a great game with really fun, interesting characters, good music (I love the intro song, it's perfect for the atmosphere), and stories that are a little dark but not too heavy on the angst.  However, it is pure visual novel, with no minigames, and the stories are pretty long, so it requires a good chunk of time and concentration. It also has a voiced heroine (with a voice I actually like!).
Steelwood, on the other hand,  is almost the opposite – the background story isn't that important, it's focused a lot on solving cases and tests/quizzes, and each route isn't that involved. Honestly, it's not my preferred type of game, especially the mystery part – I come from a family who read mystery novels a lot, but I was never  interested in them. However, it's nice to have a mystery game in the otome genre, and if you like puzzles, this might appeal to you. It's also nice that the semester-ending tests have random questions, so you can get different ones each time you do them (the cases are always the same though).
Now, for anyone who missed the Otomate Hallowe'en downloads, here they are! They're in zip format.
Screensavers – one each for Edel Blume and Will o' Wisp
Wallpapers – 4 wallpapers, one each for Edel Blume and Will o' Wisp, one with both and a Hallowe'en theme, and one Hallowe'en one with characters I don't know.
And apparently Idea Factory had a record year for profit, so they have some more wallpapers for download. Sounds good to me!
That's about all I'm up for today in terms of game reviews, I've been working too much
But I have found a couple interesting things, like YesAsia's clearance sale!
VitaminX Evo Plus Limited Edition for the PSP – $66.99!
S.Y.K. Renshouden (Japan Version) for the PS2 – $29.99 – verrry tempting…
ARIA 2010 October -$13 this is the manga magazine that is running the Nise no Chigiri manga, and this edition comes with a CD featuring Masato and Suien in a little drama.
Seiza Kareshi Series : Starry Sky – in Winter – Hoshiteki Daisouji Romantan (Japan Version) $23.49
La Corda d'oro 3 – School Series 3 Jinnan – (Japan Version) – $13.49
Haruka naru toki no naka de 3 – Kurenai no Tsuki Limited Edition (DVD) (First Press Limited Edition) (Japan Version) DVD  – $81.99 (is that a good price? I dunno if I'd pay it, but it's on sale, so…)
I'll leave you with the Grimm OP because it's so awesomely quirky, I love the combination of the two illustration artstyles. Did anyone get the Sengoku Lovers game? I still want it, I guess I'll have to try and search it out some other way.
September 17th, 2009
Zettai Meikyuu Grimm, the very cute-looking (but stylized as well) new game from Karin Entertainment, is coming out this winter for the PSP. Oops, I thought it was going to be for the PC or PS2!
Very cool though, especially since the site specifies 2009, not 2010! I haven't played their most recent game, Exorcism of Maria, yet (more because tons of games came out at the same time), but this game caught my eye as soon as they announced it and I think I'll try to pre-order it.
September 8th, 2008


Zettai Meikyuu Grimm ~Nanatsu no Kagi to Rakuen no Otome~
By Karin Entertainment for the PC
This upcoming (release date TBD) PC game looks really cute and has an interesting story. Henrietta, the heroine, grew up with the 3 brothers Grimm. The youngest, Ludwig, is her age, and the two older ones, Wilhelm and Jacob, watched over them and took care of them. When she and Ludwig were 10, Jacob and Wilhelm disappeared. Five years later, Henrietta and Ludwig find their research journal in their study, and start using it to look for them.
On their adventure, they join up with several fairytale characters and meet others, but events are not exactly as we know them in the Grimm Fairytales. Do the missing brothers have anything to do with this? And where are they?

Henrietta
Henrietta is a bit of a tomboy, but is cheerful and friendly. She supposedly has some talent in summoning things (using the book she holds), but she's never been able to summon the golden dragon that she got from the Grimm brothers/


Ludwig (left) and Akazukin
Ludwig always supports Henrietta. His drawings can come to life and be almost indistinguishable from what they portray, but they don't last.
Akazukin (Little Red Riding Hood), in comparison to his cute looks, has a strong personality.

The frog prince
He used to be a handsome prince, but was turned into a frog by a curse. He's expert with a sword.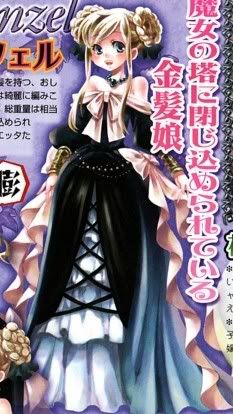 Rapunzel
Henrietta and Ludwig save Rapunzel from the tower where a witch was keeping her, and she joins their party. She has extremely long hair which she keeps up in braids, but they would be several times as long as she is tall if she let them down.


Hameln
Hameln plays a flute that can charm living things. He's pretty irresponsible and just wanders around from place to place.

Wilhelm and Jacob
The older Grimm brothers whom Henrietta and Ludwig are trying to find. Jacob, on the right, is the stronger personality and doesn't hesitate to use other people to help him do what he wants. Wilhelm is very intelligent, and Jacob often makes him work hard.
The whole style of the game is very fantastic and exaggerated in a cartoony way. Here's an example of a background:


The castle of thorns
The game is a visual novel,but it looks like it could be quite fun to play through. I'm already wondering what the story is behind the older brothers' disappearance, and what the frog prince *really* looks like.
Since Exorcism of Maria, also from Karin, is set to be released this winter, perhaps we can hope for a spring release of this?