Posts Tagged 'mirai'
March 25th, 2011
It didn't seem right to post fluff right after the disasters in Japan, but things seem to be approaching normal now, and I got a new shipment of otome magazines.
For anyone wondering what kind of swag you get with otome mags, here's a pic I took (the colour's kind of off but whatever):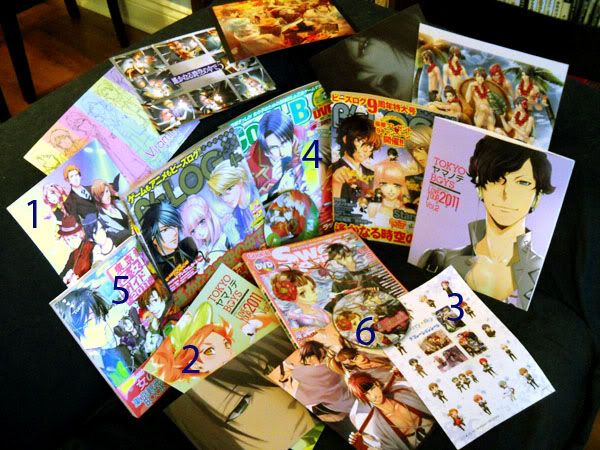 1 – several miniposters (one set of five or so from each B's Log)
2 – two booklets about the Yamanote Boys series (one from each B's Log)
3 – page of stickers from Starry Sky! very cute
4 – the mags – I got the April and May B's Log, and the most recent Cool-B and Sweet Princess
5 – The 2011 Tokyo Otome Guide – I have to plan for my fall trip! it has listings of otome-focused stores, manga, games, cosplay, everything, as well as some hotel and restaurant listings (even some butler cafés!), with lots of pics and ideas. Lots of fun to read through!
6 – Two DVD-Roms that came with Cool-B and Sweet Princess. They have promo movies, wallpapers, game guides, and even some playable demos.
And now for the news from those magazines!
A fandisk was announced for Hiiro no Kakera 4 Shin Tamayori-hime Denshou, called Piece of Future. Scheduled for July 2011, the Suwabe Brothers will be capturable! Awesome.
Sangokuren Senki is coming to PS2!!! I'm extremely happy, I've heard a lot of good things about this game and darnit, I'm just a sucker for fantasy historicals!
A new Quinrose game, Mother Goose no Himitsu no Yakata (Mother Goose's Secret House) – scheduled for the PSP on June 23. Apparently there are two parts, a quiz part and an adventure part. The story is kind of like Alice, in that the heroine falls into a different world and has to find a way out. But to do so, she has to pass quizzes based on nursery rhymes. The men she meets all know her, but she doesn't remember them. There's a lot of really gorgeous art for this, it seems that Quinrose has over 200 nursery rhymes (which will be shown in English and then Japanese translations) illustrated by lots of different artists. Here's a pic!


Cute huh? From left to right, the characters are:
Cezary Fritche (CV: Morikawa Toshiyuki) – a poor scholar
Eric Burrell (CV: Toriumi Kousuke) – an odd jobs guy
Heroine
Arthur Lindgren (CV: Sakurai Takahiro) – a noble gentleman
Bacchus Moore (CV: Suwabe Junichi) – a cook
(sitting) Vincent Noble (CV: Yasumoto Hiroki) – a student of Cezary at a well-known school
The Nise no Chigiri fandisk, Omoide no Saki e, is coming July 21!
A new R18 game, Persona, is announced from Mirai, the creators of the Hoshi no Joou series and Jingi Naki Otome, It seems to be based on the Phantom of the Opera, but there was just a teaser spread this month.
More info on the new Otomate PSP game, Amnesia. The heroine wakes up with (surprise!) amnesia, and apparently has to figure out which of her (current?past?) boyfriends is the real one, or something.
Kago no Naka no Alicis, the all-ages fantasy PC game from icingCandy, is set for Apr 22.
Info on the Alice movie! It's coming out on July 30, in 7 cities around Japan. The art is quite nice, dare I say, possibly nicer than the original game! Apparently the story is new, and they're trying to make it accessible to people who've never played the game. Apparently Joker is in it, and that is a hint as to the story, and there's lots of action.
Seiyuu announcements for Hotokensaa, the sentai otome game:
Kondou Ryuuichi, Hotokensaa Blue: Akabane Kenji
Sumeragi Rikuto, Hotokensaa Yellow: Takagi Shun
Doujima Mitsuki, Hotokensaa Green: Kimura Ryouhei
August 24th, 2009
Finally got the August magazines, and yay! New games to talk about! There are several, so let's jump right in, shall we?
First, a totally new title from Takuyo for the PS2, called Kaerabatake de Tsukamaete. It's set in the city of Tsukiyado, where some environmental problems have caused some of the residents (the heroine and the guys) to become were-frogs!!? For some reason B's Log has a fan-servicey picture of the heroine, enough that I checked whether it was an otome game or not, but it is! Also interesting, it seems that there are 6 guys, 3 are shown in B's Log and 3 in Girl's Style. So far, only a couple of colour pics and line drawings of the characters, whose designs are by Hirose Azumi.
Uta no Prince-sama (PSP) is a new game from Broccoli and Nippon Ichi scheduled for 2010. The heroine attends an entertainment school, and the object of the game is to choose a potential idol to team up with as his songwriter, and work towards graduating, which means a successful audition. Character designs are by Kurahana Chinatsu, and we already know the OP is by Miyano Mamoru!
There's also a maybe-not-otome game called Dear Girl Stories Hibiki (DS) from ASCII Media Works. It's based on a comic of the same name, which originated from some radio shows that Ono Daisuke and Kamiya Hiroshi do together. The comic is about the seiyuu (or their characters?) helping out girls who write in with their love problems to a radio show. Of course "Hiro-C" and "Ono-D" will be in this, as well as Yusa Kouji as their boss Tera Ikemen, and several other characters with as yet unnamed seiyuu (who I guess might be the characters you can 'get'). It already has a release date of December 17.
And lastly, a new Hoshi no Oujo title! The fifth title in the very-loosely connected R18 series (PC only of course!) from Mirai is tentatively called Hoshi no Oujo Oiran, is set in the Bakumatsu era, and is slated for 2010.
Of course, there are some really nice-looking cell-phone games as well, but I won't torture myself or you by talking about them *sniff*…let's focus on the bright side with all these new games to look forward to!