Posts Tagged 'nakano'
October 19th, 2011
I found Nakano because Mandarake has a main location there, but afterwards I realized it has a whole list of places in my shopping guide too! It's a few stops west of the central Tokyo line, and it is a lot of fun. There's an arcade that you go through, and once you pass through it and enter the next arcade (Sun Plaza), there are many many fun shops – I could have probably spent a whole day there. Besides the awesome Mandarake shops (they have about 5 separate little shops there with different focuses (focii??)) there are other ones with just about any cult favourite you can think of – models, cult movie posters from decades ago, cosplay, miniatures – it's a great place to bring people (and then leave them while you go and browse in Mandarake, heh).
So, first I reached the manga section, and got these: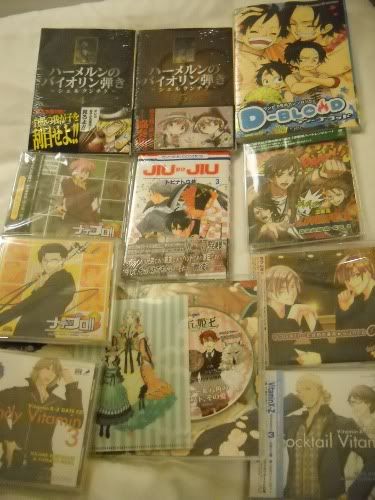 Nade Pro Vol 1 and 2, they were both pretty cheap. And the VitX-Z CDs with my favourite characters (Chisato and Konokage of course!). And Koisentai Vol 1! So I can get excited for when they release that game!
I couldn't figure out why there were no games, so I asked, and a clerk kindly gave me a map of all the different Mandarake shops in the plaza. Headed over to the games section (it took me a few rounds to figure out where it was because I kept getting distracted by cool stuff), and bought:


Lucian Bees Justice Yellow and Evil Violet, yaayyy! I've been wanting to buy the Yellow for forever and held off. Also the VitX to Z fandisk, heehee. I almost didn't get the Gekkan Ryouran Romance because I thought I might find it with an extra somewhere, but I couldn't resist. And finally Arabian's Lost DS, maybe now I will finally be able to get the tutor guy…whatever his name is.
And now a summary of everything I've bought for myself, otome-wise, so far:


Not bad…if I do say so myself.