Posts Tagged 'trick or alice'
November 25th, 2011
New game with gorgeous character designs from Yura, Hana Awase. So far there are just some characters shown and some teasers, nothing about the game system or specs is known yet.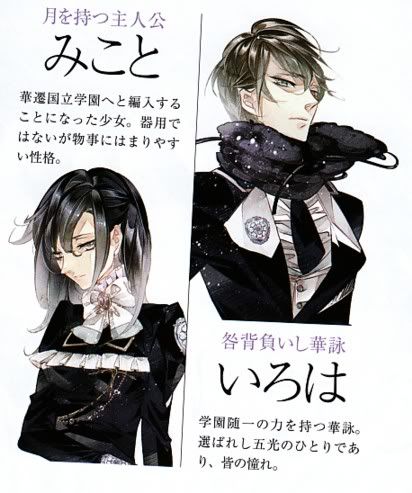 The heroine, Mikoto, and Iroha.
Another spinoff from D3, VitaminX Detective B6 for the PSP! The character personalities are the same, but they've made it into a detective game. It's scheduled for release on Feb 9. Vitamin's system of tsukkomi and through is being used here again.
A fandisk for Tokyo Yamanote Boys is announced (that was fast!) It's called Sweet Jelly Beans, and is coming out January 13 for the PC.
Fandisk for Harutoki 5!!! Actually, it's called a continuation, not a fandisk, so maybe it will be the same game system? Spring 2012 on the PSP, it's called Kazahanaki. Drat, I haven't even finished the first game yet, I still have a couple characters to finish.
And, mark this historic day on your calendars, because for the first time in years (at least, I think it's years), the top 3 favourite characters are not all from Hakuouki. #1 still is, though (Saitou Hajime, yeah he's  kind of adorable). #2 and #3 are from Uta no Prince-sama.
Amnesia fandisk – Amnesia Later, scheduled for March (for the PSP bien sûr).
Hetalia is being adapted for the DS
little cheese (the developer of KuroKin) is making a new R18 game, Trick or Alice, for release next year.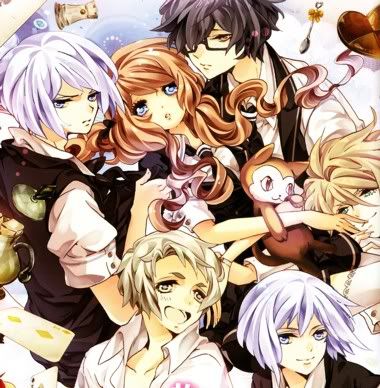 Trick or Alice
Fandisk for Hiiro no Kakera 3 (Soukoku no Kusabi)
Juuzaengi coming in April on the PSP
Cast for Bakudan Handan!
Urabe Kimimaro (CV: Suwabe Junichi) long-haired fortune teller
Mitarashi Ryuusei (CV: Hino Satoshi) a host
Shidou Subaru (CV: Suzumura Kenichi) a mercenary
Meoshi Kouta (CV: MOrita Naruichi) a gamer
Wakasa Towa (CV: Kaji Yuuki) member of an idol group
Mikami Makoto (CV: Suzuki Chihiro) university student
Shirabe Ayumu (CV: Narita Ken) freelance writer