Posts Tagged 'year in review'
January 17th, 2012
Before looking at specific games, I thought I would try to find a few trends in otome games in the past year. First, I took a look at the covers for otome magazines: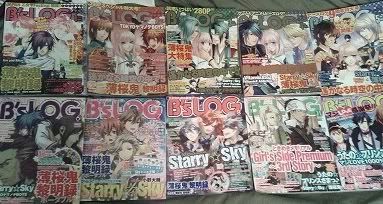 B's Log
and

Girl's Style.
I'm missing a couple of each, you can see the backnumbers for B's Log on their website, I'm missing an UtaPuri and a Hakuouki cover. The two Girl's Style I'm missing are a Hakuouki and an Arcana Famiglia.
I actually thought Hakuouki took up a sizable amount of cover space, and it does, but really, not much more than Starry Sky or Uta no Prince-sama. Oh wait, now I've figured it out, it was 2010 that Hakuouki took all the cover space (half the B's Logs sold in 2010 had Hakuouki covers). And Harutoki 5 took 4 covers, wow!
Now if we take a look at the popularity polls inside, an interesting shift took place. In the Jan 2010 issue of B's Log (sold in December), the top otome characters looked like this:
10. Mikoshiba Kyousuke (Storm Lover)
9. Shitara Seiji (TokimemoGS 3)
8. Sakurai Kouichi (TokimemoGS 3)
7. Sakurai Ruka (TokimemoGS 3)
6. Kazama Chikage (Hakuouki)
5. Toudou Heisuke (Hakuouki)
4. Harada Sanosuke (Hakuouki)
3. Hijikata Toshizou (Hakuouki)
2. Okita Souji (Hakuouki)
1. Saitou Hajime (Hakuouki)
Take a look at that, willya? Aksys chose well
But all the same, it was a little…monotonous. (By the way, if you had to pick your fave guy from Hakuouki who would it be? I've only played Hijikata, Saitou, and Chikage, but Chikage was my favourite of those. Saitou was also great. Hijikata I liked, but it had very little romance. Aaaanyways)
In the July issue, Hakuouki still had the top 5 spots, though poor Heisuke had fallen to 8th position.
Now here's the top 10 from this year's Jan issue:
10. Otoya (UtaPuri)
9. Sanosuke (Hakuouki)
8. Masato (UtaPuri)
7. Kazuki (Starry Sky)
6. Ryuutarou (Starry Sky)
5. Azusa (Starry Sky)
4. Souji (Hakuouki)
3. Tokiya (UtaPuri)
2. Shou (UtaPuri)
1. Saitou Hajime (Hakuouki)
Saitou is still on top, but the rest are much more spread out. The numbers are also much more even. But considering Hakuouki has been dominating for more than a year, that's pretty good (seriously, the original game came out on the PS2 in Sep 2008. 2008!!!)
On a side note, the top three characters in Boys Love last year were Akira (Togainu no Chi), Giancarlo (Lucky Dog) and Gunji (Lucky Dog). This year they're Giancarlo, Akira, and Bernard (Lucky Dog).
Now looking at the games released, I checked last year's post – 20 originals and 10/11 fandisks last year. This year combining consoles and PC games there were 30 original games and 11 fandisks, and a bunch of adaptations and ports. So the commercial otome release list grew by almost a third this year, wow! That makes me really happy.
However, I can't help but feel like there was less variety in gameplay this year. Last year Tokimemo GS3, WagaHana, Steelwood, Love Root Zero (with all its problems), UtaPuri, and Storm Lover all had significant gameplay. This year there was Mother Goose (with all ITS problems), and Harutoki 5, FabStyle, and I think Miss Princess? I'm hoping that some of the ones I didn't get to like Arcana Famiglia also had some, but it seems like a lot less and I can't think that's a good thing. Maybe that trend will reverse in 2012.
Now all that's left is to JUDGE (my favourite part). I'll probably do that in a couple weeks, because honestly I'm still working on a bunch of new releases! I feel like I should play Arcana Famiglia before I decide, does anyone recommend it?